17 Surprisingly Stylish Scarves No One Will Believe You Got On Amazon
Donell Woodson/Getty Images Entertainment/Getty Images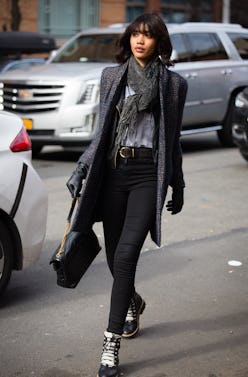 When it comes to accessories that are stylish and functional, it doesn't get much better than scarves. And surprisingly, you can find some of the best scarves on Amazon, whether you're looking for a classic cashmere pashmina, an oversized plaid wrap, or something else entirely.
Scarves are obviously a great cold weather accessory, and there's nothing better than wrapping up in a cozy scarf on a chilly day. As far as materials go, there are many warm options to choose from, ranging from cotton to wool. But you can also shop for silk and satin scarves that look super chic when worn around your neck, on your head, or even tied to a handbag. Large scarves, like wraps and ponchos, are perfect for cold offices and chilly airplanes. They're a great alternative to bulky jackets and can even double as blankets when you're traveling.
Whether you love neutral colors that go with everything or want to add a pop of color to your look, there are plenty of scarves for every occasion to choose from, below. From pashminas to ponchos, these are the best scarves on Amazon — which, thanks to Prime shipping, you can add to your wardrobe in just a few days.