This Unknown Desert Destination Makes For The Best Fall Getaway
Carina Otero / Kristin Corpuz / Christine Tran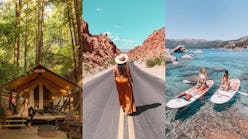 As someone who spent half of 2019 traveling around the globe, quarantined life during COVID-19 has been quite a change of pace for me. I'm happy to stay home in order to keep others safe and to slow the spread of the virus, but I definitely miss being on the road. Fortunately, there are safe ways to travel and see more of the country while still being socially distant, so I consulted a few fellow frequent travelers for all of the best outdoorsy destinations that are safe to travel to during quarantine — and are super Instagrammable to boot.
While it's always fun to visit dreamy international destinations and collect stamps in your passport, I firmly believe that domestic travel within the U.S. is supremely underrated. There are so many different landscapes, climates, and terrains to explore throughout the country — from the Mars-like mountains in Valley of Fire, Nevada, to the towering trees in Sequoia National Park, to the postcard-worthy fall foliage in New England.
Though you're probably not getting on a plane to cross a country off your bucket list anytime soon, you can still safely satisfy your travel bug by visiting one of these beautifully scenic locations around the country.