The Makeup Brand Beauty Fans Have Been Waiting *Years* For Is Finally Here
Tati Beauty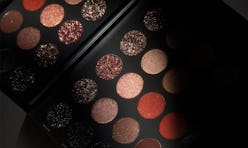 If you've ever looked up how to properly apply your concealer on YouTube — hey, it's trickier than it seems — chances are high that you know Tati Westbrook. The OG beauty influencer and YouTuber has been creating informative online makeup tutorials and product reviews since launching her channel in 2010, and has since become a go-to staple in the community. But now, nine years after debuting on the social media platform (and less than a year after starting up her own supplement line, Halo Beauty) the one thing Westbrook's fans have been waiting patiently for has finally arrived: Tati Beauty.
And it's safe to say that the internet is thrilled. Keeping in line with Westbrook's own personal aesthetic, the new makeup brand's first launch was a $48 everyday glam palette called Textured Neutrals Vol 1. Less than 12 hours after it arrived on TatiBeauty.com Oct 25, more than 100,000 palettes had been ordered according to Westbrook's personal Twitter account, @GlamLifeGuru — meaning the palette itself sold out in under one day.
Luckily, the brand is already fast on its feet to bring it back. "Limited Pre-orders are now being accepted," Westbrook continued in the same tweet. "We will work hard to get those orders out as timely as possible with a guaranteed delivery by Dec 15th!"
It's easy to see why the palette has been immensely popular, regardless of Westbrook's 9 million YouTube subscribers. The 24-pan layout is incredibly clever: There are six color stories at play, divided by rows, with each one offering four complementary matte and glitter shades. It takes the guesswork out of mulling over which eyeshadows go with one another (something that has undoubtedly stumped even the most diehard beauty fan early in the morning, before work).
You get to choose which color story works for you on any given day, too. A majority are perfect for everyday wear, such as the milk chocolate row "Ritual" and camel-colored "Soothe." Meanwhile, punchier shades — like the rose-hued "Poet" row or the smoky "Memory" — will give you options to dip into when you're feeling bolder.
"Sometimes reaching a dream means a new story is just beginning. I'm grateful to still hold the same passion for makeup nearly a decade & 2000 videos later," Westbrook shared on her Instagram account before Tati Beauty's launch. "To my subscribers, you have kept me inspired through it all... at every high & at every low, I have felt you telling me to focus on what I love... & to always keep going. This is for us."
Ahead, Tati Beauty's new Textured Neutrals Vol 1 palette, available for limited pre-order on TatiBeauty.com.