Tatcha's Site-Wide Cyber Monday Sale Is Here — & Yes, It Includes Gift Sets
Tatcha/Instagram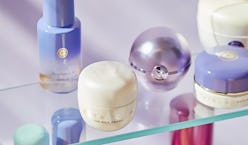 For those interested in skin care — or Meghan Markle's covetable beauty routine — there'll be no shortage of things to add to your cart during Tatcha's Cyber Monday 2019 sale. The popular luxury J-beauty brand offers up a little bit of everything when it comes to skin care (and some makeup, too), including the Duchess' favorite exfoliating Rice Polish. That said, you may need to exhibit some self-control when you peruse its Cyber Monday event: Tatcha's sale offers 20 percent off its cult-famous, royal-approved line.
Better yet, Tatcha's Cyber Monday sale covers virtually everything on the beauty brand's website — the only exclusion from the sale being gift cards. This means that its popular beauty gift sets are discounted, too, giving shoppers an even greater value overall (plus, a chance to completely restock their own collections in one swoop). To unlock the deal for yourself, make sure you type in the promo code CYBER19 before you check out; and voilà, the 20 percent off discount is yours.
You have plenty of time to mosey through Tatcha's digital store, as well. The Cyber Monday promotion began Dec. 2, and will wrap up on Dec. 4, giving you three whole days to mull over which skincare legends you'll be grabbing for yourself.
Though, with the sets on sale as well, deciding on what to buy may be even easier for you this year. The Ritual Kiri Collection is particularly eye catching: Valued between $424 and $616, the skincare routine-establishing set is customizable to your unique skin type, whether that be dry, sensitive, or somewhere in between. Regardless of which option you choose, you'll score an incredible deal on it during the Cyber Monday sale — for example, the regularly $424 dry skin collection is discounted to $339.20 with the promo code, and still comes packed with six fan-favorite Tatcha products.
More interested in single products? Below, a mix of stand-alone Tatcha gems and skincare sets on sale during the brand's Cyber Monday event.