You'll Want Every Piece From This Colorful (& Very Shiny) New Collection Tarte Just Dropped
Tarte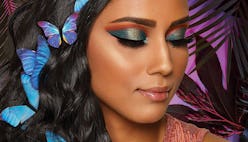 A big anniversary calls for an even bigger celebration. At least, that's what the beauty brand seemed to have in mind when Tarte's new Unleashed collection dropped. On June 12, Tarte celebrated 19 years of cruelty-free makeup by unveiling three completely new products: the Unleashed Eyeshadow Palette, a never-before-seen faux lash design, and highlighter pots that look seriously shiny. And if that wasn't enough, Tarte also revealed three new Chrome Paint Shadow Pot shades — which includes "Unleashed", an on-brand deep purple shadow only available for a limited time.
The collection is available to purchase on Tarte's website, with a release soon to follow at Sephora, Ulta, and Macy's. Prices depend on which size product you go for; a single pair of Tarte's new Llama Lashes will cost you only $12, whereas the 15-shade Unleashed Eyeshadow Palette will run you $39. And even the palette is still a steal, by the way — it comes with a free travel-sized Big Ego Mascara, which regularly retails for $12.
In the product description Tarte says the eyeshadow palette was inspired by "animal kingdom kweens", noting that the included shades are matte, metallic, and earthy. Tarte's signature neutrals are present, as are a few summer vacation-ready shades — like the gorgeous turquoise shimmer "Toad-ally" you'll probably want to dip into every single day.
And speaking of new favorite eyeshadow shades: The limited-edition "Unleashed" Chrome Paint Shadow Pot is going to become a cult favorite amongst Tarte fans obsessed with the brand's signature purple packaging. Don't forget about the other two new $22 shades, too; the metallic pink "Wild At Heart" and warm champagne "Paradise Found" are just as swoon-worthy.
Finally, to complete your glowy summer look, pick up the brand's new Tarte-LIT Chrome Paint Highlighter. For a high-impact, high-shine highlighter, the $30 product is unexpectedly versatile; swatches on Tarte's website show that the formula is easily buildable. Apply just one layer of it on days you want a less noticeable glow, then pack on three when you want all eyes on you — Tarte points out in the product description that the formula will melt and blend into your skin if you apply it with your fingers.
Summer is here, and it's time to celebrate the Tarte way (i.e. with shimmers, metallics, and all the tropical colors). Below, each new product from Tarte's Unleashed collection.