Tarte Just Added This Cult-Favorite Shade To Its H2O Gloss Collection (& It's So Wearable)
Sephora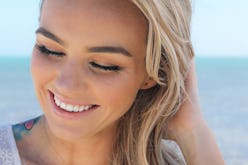 It's officially time to book your next beach vacation. On July 9, Tarte added 10 new on-the-go cosmetics to its Rainforest of the Sea collection: three Foil Finger Paint Trio palettes and seven new shades of the best-selling Tarte H2O Gloss. Better yet, the brand took the gloss' shade expansion as an opportunity to bring "Salt Lyfe" on board — a fan-favorite grayish-mauve shade from Tarte's Color Splash Lipstick collection. Packing your travel makeup bag just got way easier.
You can skip bringing your makeup brushes with you, too. Tarte formulated its $25 Foil Finger Paint Trio palettes to smoothly go onto your lids, just by using your fingers — the brand claims the sparkly vegan shadows "melt" onto your skin when you dab them on. You have three options to choose from, as well: The warm-toned Bahamas palette, the cool-toned Lunar palette, or the everyday Milky Way trio (which includes a bronze, crimson, and pale white glitter).
Though choosing which $19 H2O Gloss to bring may be difficult. If you can't find a way to pack all 21 shades from the best-selling product into your purse, focus on the new ones instead — the brand zeroed in on elevating its range of go-to pink, peachy shades with the recent release.
Which means it's easier than ever to find your perfect, barely-there tint from Tarte's lip gloss collection. If the cult-favorite "Salt Lyfe" shade is too subtle for you, try out "Pink Sands", a soft pink with a metallic finish, or "Private Island", a warm pearlescent peach. "Sail Away" is another to consider; the deep rose-colored lip gloss will add a sheer color to your pout.
Additionally, clean beauty shoppers will undoubtedly be thrilled that Tarte's expanded its Rainforest of the Sea collection — the entire range has been given the Clean at Sephora stamp of approval, meaning the makeup is formulated without parabens, mineral oils, or the sulfates SLS and SLES (select H2O Gloss colors do list carmine, or CI 75470, as an ingredient). Which, yes, does mean you can snag Tarte's new eyeshadow palettes and lip gloss shades at the popular beauty retailer.
Or, just keep scrolling down; all 10 new Tarte makeup products are ahead.