Minimalists Will Love Target's New Swimwear Line (Especially This Sleek Black One-Piece)
Target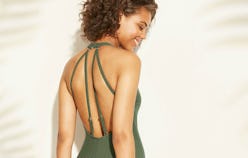 Shopping for swimwear on a budget can be seriously disheartening. As you probably know, the trendy, minimalist swimsuits you see on Instagram can have surprisingly high prices — and paying over $100 for just a bikini top isn't always an option. Ever wonder exactly why swimwear is so expensive? Apparently, Target pondered this age-old question too, and decided to answer it once and for all; according to Target's new swimwear line Kona Sol, you should be able to get modern, on-trend swimwear for under $50.
And that doesn't exclude shoppers that aren't sizes XS to XL. Target's Kona Sol line includes pretty, affordable plus size swimwear for everyone sizes XS to XL, and 14W to 26W. The size-inclusive pieces are well-designed, too; this $27.99 V-wire bikini top is cute and made to support a full bust.
Textured fabric, vintage vibes, muted colors — Kona Sol's designs have the trendy swimwear details featured in pieces twice their price. It's hard to believe you could buy this modern black swimsuit at Target on your next grocery run, and that it only retails for $34.99. The sleek V-neck doesn't hint at the removable cups hidden in the swimsuit's design, and adjustable strings at the hips let you pick how much you'd like the fabric to ruche.
But besides all the visible details, the fabric itself is rated UPF 50+. UPF — or Ultraviolet Protection Factor — is like SPF for clothes, meaning the UPF 50 suit will only allow a small fraction of the sun's UV rays to reach your body.
Just as much effort went into the design of smaller pieces, too. The $19.99 Shortie Swim Shorts look nothing like the looser swim shorts on the market: the design is form-fitting and unabashedly flirty, baring a hint of skin on the outside of the thigh. The nylon and spandex blend shorts are a good option if you're a more serious swimmer, as well, since the fabric is designed to stretch with you.
Although Target only officially announced the Kona Sol swim line on Jan. 11, shoppers have already descended on the swimwear, and the 5-star reviews are pouring in. Dreaming of what you're going to wear this summer? Below, 13 pieces from Kona Sol to shop until the weather warms up.