The Sleek, Affordable Travel Essentials You've Been Looking For Just Landed At Target
Courtesy of Jungalow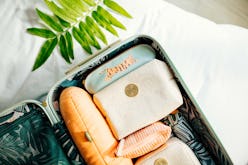 After browsing Justina Blakeney's online "Jungalow" kingdom — which consists of a lifestyle blog, decor shop, and an Instagram with over a million devoted followers — you may wonder why the designer and artist didn't lend her aesthetic to a travel collection sooner. Blakeney's finely honed bohemian style just works so well with her and Target's Jungalow luggage collection. It's richly colorful and beautifully minimalist in turn, with over 15 Target-exclusive travel essentials available Feb. 10 each retailing under $140. But this is the author of The New York Times best-seller The New Bohemians, after all — if anyone knows how to travel in boho style, it's Blakeney.
Naturally, it comes from experience. "My grandma Bette was a travel agent and orchestrated trips for our family," Blakeney said in a press release. "By the time I was 12 years old I had been to cities in Mexico, Indonesia, Canada, Israel, Europe, and all over the United States. These trips fueled my imagination." Blakeney continued to travel as an adult, moving to Italy after she graduated from UCLA (with a B.A. in World Arts and Cultures, of course).
"Through all of this I learned not just the importance of travel for personal growth and development, but also how to travel — because I've been through it all," Blakeney said.
Having a decorated passport (and the occasional travel mishap) under her belt is apparent in how thoughtful the collection it is. It features a chic yet safe travel wallet for $27.99, a travel jewelry case for $21.99, and a TSA-approved toiletry bag for only $7.99 — all in the same Jungalow aesthetic, a cohesive color and pattern palette you can mix and match.
Even the more substantial pieces, like the 20-inch Jungalow carry on suitcase, are built to make traveling easier. The suitcase is outfitted with interior garment straps, multiple handles, and 360-degree spinner wheels for tight airport turns. Though it's made with a blend of ABS and polycarbonate it still clocks in at under 4 pounds, meaning it won't add too much additional weight after you pack it. Not to mention it's genuinely stylish and only $99.99.
"Knowing that this collection [will] be available to all at an accessible price point was extremely important to me," Blakeney said. "I believe that travel fosters interpersonal understanding and encourages folks to get outside of their comfort zones, fly across the world, and get to know people from different places."
Feel like taking a vacation? Ahead, a few travel essentials from the Jungalow collection at Target.