Why Shopping For Intimates At Target Is About To Get So Much Easier
Courtesy of Target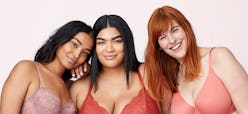 Sometimes, it feels as if the shopping experience at Target couldn't get any better. Not only has the major retail store become a go-to place for everything from electronics to home goods, but it's also become home to a number of chic and accessible clothing brands. Now, the retailer is taking it a step further with a new approach to its intimates and sleepwear section while also introducing a few new lines (including Target's new intimates brand, Auden) to make your time searching for the perfect underpinnings and pajamas so much more enjoyable.
Auden, the latest intimates brand to hit Target, is a size-inclusive line with almost 200 bras in 40 different styles that range from 32AA to 46G, and 200 underwear options in 50 styles to choose from in sizes ranging from XS to 4X. With Auden, you'll find everything from pretty lace bralettes and high-waisted briefs to classic t-shirt bras that hook both in the front and back as well as lace panties. What's more is that you can snag each of these pieces for under $22 each.
Along with Auden, the retailer is launching two other size-inclusive brands, Stars Above and Colsie, to suit your sleepwear, loungewear, and intimates needs.
Stars Above, which focuses on lounge and sleepwear, features a collection of classic pieces such as a striped shirtdress and a floral kimono, all for under $30. Colsie, on the other hand, is an on-trend sportswear-inspired intimates and loungewear brand that will take you from your weekly errand run to a night in, with pieces available for under $22. These brands are all currently available at Target in stores, and will be available to shop online on March 3.
Of course, these new brands aren't the only things that will change your time browsing through Target's intimates and sleepwear sections: The company has announced that it will be showcasing these sections in a brand new way. In-store, you'll be able to find styles and sizes on display long the walls, in drawers, and on tables to help make finding specific items as effortless as possible. Online, you'll see the brand's new Find Your Fit tool, which will help you get the best bras for you and your body — because no one wants an uncomfortable or ill-fitting bra.
Each of these announcements, along with the addition of its most recent campaign, which features completely unretouched women of all backgrounds, ages and sizes, makes up a part of Target's mission to offer shoppers more.
"From new brands and experiences, to a campaign that celebrates that women come in all different shapes and sizes, we want to create the ultimate destination for our guests — one that's inviting and inspiring and allows all women to feel comfortable and confident," reads a quote from Jill Sando, senior vice president, general merchandise manager, apparel and accessories and home at Target in a press email. Hopefully, that means many more of these exciting announcements to come.
To shop the new brands and take advantage of these updates, head to your local Target store now or mark your calendars for when they hit the site on Sun., March 3.