This Insta-Favorite Body-Care Brand Is Now Available At Target
Courtesy of Flamingo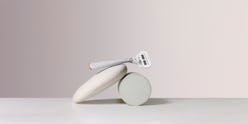 Flamingo's body care product line feels revolutionary — which is probably why it only took the brand a few months after launching to turn Instagram buzz into a spot at all 1,800 Target stores. While Flamingo isn't exactly a fledgling startup (it was created by Harry's Labs, the team behind shaving company Harry's), any brand that can create affordable and aesthetically pleasing razor should be celebrated. Even better, Flamingo is just one of Target's February 2019 beauty arrivals changing the game.
Flamingo's body hair removal kits share one thing in common with the other beauty arrivals (like the array of new Pixi Beauty products or the temporary hair color sprays that double as treatments): They show that Target is curating products that challenge the notion that low-cost beauty products are low-quality. "We created Flamingo because there wasn't a high-quality women's body care brand we could relate to," reads a quote from Allie Melnick, Flamingo's General Manager, in a press email. "We're excited to partner with Target to give more women accessibility to great products and continue expanding the honest dialogue around body care."
Although the dialogue began there — and Flamingo's $8.99 scented body lotion has great reviews — the conversation zeroes in on women's body hair. While you undoubtedly have your own opinion on the matter, the $9.99 Flamingo Women's Face Wax Kit shows how lighthearted and body positive the brand is about the matter. The second product photo shows an image of a woman using the wax removal strips on her upper lip, while another photo features the kit's box, which reads "same beautiful body, just with less hair".
"Target is always looking for exciting digitally native brands to bring to our guests," said Christina Hennington, senior vice president of Beauty, Essentials, Hardlines and Services at Target, in a press email. However, the concept can be applied to the other new beauty releases, too — and this works in your favor. Target already is stocking new releases from its Insta-famous beauty brand Pixi Beauty, such as the affordable collagen and retinol serum that will only cost you $24.
Below are just a handful of the new beauty releases at Target; rose gold-detailed razors, Pixi Beauty serums, and the aforementioned temporary hair color spray included.