Taraji P. Henson's Secret To Great Skin Costs Absolutely Nothing
Rebecca Cabage/Invision/AP/Shutterstock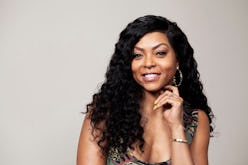 We're only two weeks deep into the new roaring '20s, but Taraji P. Henson's schedule is already brimming. From gearing up for the sixth and final season of Empire, to the launch of her haircare line (TPH By Taraji), the real-life superwoman is showing no signs of slowing down. But it's not only on the big screen and in the beauty biz where she's running things — she's even conquering football's biggest night. And while Taraji P. Henson's skincare routine may not be as rigorous as the collisions, passes, touchdowns, and interceptions we'll witness when we tune into the 2020 Super Bowl on Feb. 2, she's still an MVP — especially when it comes to standing up for women.
The actress, along with some her famous friends, will be front and center in a highly anticipated Super Bowl commercial for Olay's #MakeSpaceForWomen campaign, an inspiring ad that benefits young women in STEM through donations to Girls Who Code, bringing about the next generation of female scientists, engineers, programmers and space explorers.
So as the Hollywood star gears up for the rest of an exciting year, check out her tips to creating a life she never needs a break from.
On Girl Power
In the comedic upcoming ad, which she stars in alongside Katie Couric, Busy Philipps, Lilly Singh, and retired NASA astronaut Nicole Stott, Henson, Olay's first-ever mission control director, leads her crew to a beauty space mission saving the world in a way that only a woman could. "I love everything about Olay. They believe in representation across the board and even before this campaign they've always been about representing every woman, and that's something that I can get behind," the 49-year-old Hidden Figures star says. "But now that they've come forth with making a space for young ladies in STEM, they're making a space for all, and that's right down my alley."
And as a powerful force in an industry still very much dominated by white males — see the 2020 Academy Awards nominees for reference — Henson understands her responsibilities to the Black women after her. "I'm so glad and proud of myself for my accomplishments. I still have a lot of fighting to do, and I'm very clear on why I fight because I'm making room for women and young ladies coming behind me. I understand how important representation is so that's why I continue to get up and fight everyday."
On Her Beauty Routine Then Versus Now
"Unlike when I was in my twenties, now, I go to sleep," she says. "I definitely get my rest, I take naps, I look forward to going to bed, I am happy when it's time to go to bed, I don't have to be in the streets all the time. I used to have to always be out, but now, I take time to myself. And I do that a lot. Plus, I've learned how to say no." And practicing the use of the two-letter word more frequently is what Henson insists is keeping her alive and well. "It's either you say yes to everything and end up six feet under, or you learn how to say no and take care of yourself."
And while she relies on a fabulous glam squad for the majority of her beautifying, now, she revels in those times of pampering. "I've realized that anytime you're taking care of yourself whether it's your hair, whether it's going to the nail salon, or getting your face beat that's taking care of your mental, those things make me happy. So I take time to pamper myself any chance I can get."
On The One Beauty Product She Can't Live Without
While Henson maintains that she's no skin expert, she doesn't take hydration lightly — especially when it's cold out. "I have make sure I really focus on drinking lots of water in the winter, and it's kind of hard to do because it's so cold that all you want to do is drink hot, hot stuff," she says. "I just make sure I stay hydrated and I stay in the habit of drinking room-temperature water, which I learned is better for you while I was in China. So now, I literally have my assistant and security follow me around on set with bottles of water."
And while she's no product hag, there's one skincare fixture that she can't help but rave over: "I absolutely swear by Olay's Vitamin C Serum," the actress, who works with the brand, notes. "In the case I was stranded and could only have one product with me, that would be it. Since I've been using it my skin has been brighter, smoother, all of it."
Why Self-Care Sunday Isn't Just About Her
These days, Henson's self-care Sundays aren't spent alone. In fact, it's her fiancé, former NFL pro Kelvin Hayden who's joining in the fun. "Oddly enough, I like to wash clothes," she shares. "Me and my fiancé get up and tidy up a bit. Then, I cook. Cooking is what's therapeutic for me and my fiancé actually got me some vegetarian cooking books for Christmas. I don't know if it was a gift for me or him."