You Can Now Get Rebecca Taylor's Signature Feminine Style In Suit Form
Courtesy of Rebecca Taylor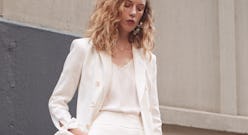 It's time to welcome back the art of power dressing. The working woman's wardrobe is going through a renaissance this year as the fashion community collectively ponders the power of a suit — in the context of the '80s (a throwback trend seen on runways and dotting ready-to-wear stores), and now. However, these are not the pantsuits of yesterday. Silhouettes are changing, and now more than ever workwear is charged with color, light, and femininity. Just look at Tailored Rebecca Taylor: a take on suiting straight from floral-wielding designer Rebecca Taylor.
Released March 13, the Rebecca Taylor collection serves as a shopping list — everything you need to channel a contemporary style at your own office is there. There are high-waisted pants, menswear-inspired jackets dashed with eyelet embroidery, and one silk pussy-bow dress that looks like it stepped right out of the '60s (minus Rebecca Taylor's modern, tightly-wound floral print). Rebecca Taylor added in ruffles, shades of pink, and skipped substantial shoulder pads, opting for a subtle puff that mirrors the classic silhouette. The pieces are available on Rebecca Taylor's website, though will be landing at Nordstrom, Rebecca Taylor stores, and boutiques throughout spring; prices range from $250 to $550 per piece.
Rebecca Taylor's brand president Janice Sullivan noted in a press email that the Tailored collection was inspired by both customers and store associates — it was something the brand's fans needed. "With stores showcasing products that embrace the current trends of statement prints, embellishment, and shine, it has become increasingly difficult for women to find options that touch on the feminine trends yet still feel appropriate for the workplace," Sullivan said.
"It's either over-the-top feminine or extremely structured and masculine," Sullivan continued. "Tailored Rebecca Taylor applies the feminine touches signature to the brand DNA, to soften the masculinity of the suiting category in a way that enhances women without overpowering them. We want her to feel empowered without compromising on her feminine style."
Furthermore, the brand is celebrating the launch with a week-long popup starting March 18 at the Rebecca Taylor store in New York City's Meatpacking District. In tandem with its partners at The Wing (a network of women's work and community spaces), the store will host a panel featuring She Should Run's Founder and CEO Erin Loos Cutraro that night — focusing on the evolution of femininity in the workplace.
Not in NYC? No problem. All U.S. Rebecca Taylor boutiques will be offering complimentary tailoring for the Tailored Rebecca Taylor collection, ensuring your new pieces perfectly suit you (no pun intended). And of course, you can shop the collection online, too; ahead, a few of the stand-out favorites from Tailored Rebecca Taylor.