Glow Recipe's Sister Line Just Added Two Skincare Launches To Its Very Affordable Lineup
Courtesy of Sweet Chef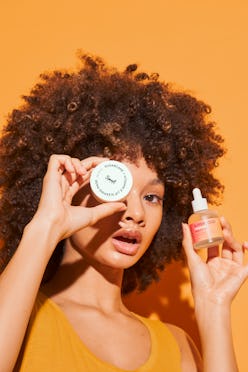 Everyone in the skincare industry has a niche. While the brand Glow Recipe harnesses the power of fruit into products like pineapple serums and watermelon masks, its sister brand Sweet Chef is a cruelty-free, vegan line that takes care of the other angle: vegetables and vitamins. The products are, in the best way, like taking the green juice you spend too much money on in the morning and applying it straight to your face. (Ingredient lists from the serum shots and sheet masks in its line include kale, beets, vitamin A, and ginger, among others.) And Sweet Chef's new Superfood + Vitamins Beauty Oil and Sugarcane + Vitamin E Lip Sleeping Mask don't break that mold (or bank), either.
"The concept behind Sweet Chef is focused around giving your skin what it craves by creating skincare recipes based on your skin's daily needs," Christine Chang, Co-Founder and Co-CEO of Sweet Chef tells The Zoe Report in an email. And the Superfood + Vitamins Beauty Oil ($24), along with Sugarcane + Vitamin E Lip Sleeping Mask ($15), does just that, by giving your skin some (probably much-needed) hydration.
This was important to Chang, who tells TZR, "As my skin is naturally on the drier, more dehydrated side, I love products that can add more nourishment and hydration without being heavy. The Superfood + Vitamins Beauty Oil is the perfect remedy for that. It's a dry oil that absorbs so quickly without leaving that greasy after-feel but still gives a really radiant, glowing finish."
With a diverse amalgamation of ingredients like jojoba oil, apple seed oil, and carrot extract mixed with the signature "Sweet Chef superfood blend" (Beet+Vitamin A, Kale+Vitamin B, Ginger+Vitamin C), the oil is great for pre-makeup application or mixing it with a moisturizer for added glow without being too glossy.
But if the hydrating, dry-oil prospect has you intrigued, the Sugarcane + Vitamin E Lip Sleeping Mask that launched alongside it might just make you a major Sweet Chef convert. For one thing, as Sarah Lee, Co-Founder and Co-CEO of Sweet Chef Skincare tells TZR, it stays true to the brand's "clean" formulas. "This lip sleeping mask is the only clean, petrolatum-free, rice bran-based lip mask in the mass market." And with its four key ingredients — sugarcane, vitamin E, sugarcane-derived squalane, and petrolatum-free rice bran base — the mask promises to smooth, hydrate, and plump lips overnight.
You can snag both of these new launches on Sweet Chef's website starting Jan. 7, and on Jan. 26, they'll also be gracing the shelves of Target and Target.com. Keep scrolling to shop them now, or head to your local Target store when they launch later this month.