The Sweaty Betty Leggings With A Near-Perfect Review Are On Sale & Under $100 Right Now
Sweaty Betty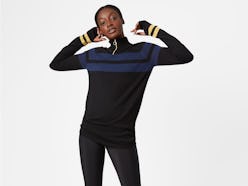 Now that March is officially here and settled in for the transitional season, the arrival of spring is just on the horizon. And with the turn of the seasons comes a wave of sales that'll get you in the mood to update all areas of your closet — including your workout attire. More likely than not, you graduated from sporting those worn-in T-shirts and shorts for something more breathable, sweat-wicking, and of course, stylish. However, if you're in need of a few more pieces to replace your older ones or you just want to update your workout wardrobe, Sweaty Betty's Mid-Season Sale has everything you'll need.
From classic leggings — of which you can truly never have too many — to the outer layers you'll wear to and from your workouts (along with simply lounging around the house), the London-based activewear brand will have you outfitted in the chicest and most luxurious pieces while working up a sweat. Plus, as you look through the sale, you'll find some seasonal items you can wear until the weather warms up, and then save them for seasons to come.
Get yourself started with these highly-rated Power Mesh Leggings, which are currently on sale for $88 and will be essential for any type of workout you might have coming up. Or, if you want something that feels bold without moving outside of a minimalist aesthetic, the Reversible Yoga Leggings, on sale for $90, have a beautiful floral print and can also be reversed to be plain black. Of course, if you do want to wear something that feels more like a statement, opt for the Reversible Mesh Yoga Leggings, which feature a chic star print and are available for $91.
Style your leggings with a cool top, like the Glisten Bamboo Long Sleeve Workout Top, $49, for a head-to-toe streamlined look for the gym. Or, if you prefer something looser, the Lateral Run Tank is a breathable choice and is on sale for $42.
Sweaty Betty also has a number of ready-to-wear pieces for the moments you're not at the gym or studio. While it's still cold outside, layer this Insulate Vest, $124, over your workout outfits during the transitional season. Other chic options include the Dandy Merino Zip Top and the Enso Culottes, both pieces you'll want to wear well into the spring.
Now, scroll down to shop more stylish pieces from Sweaty Betty's Mid-Season sale below.