Your Favorite Insta-Famous Jewelry Brand Just Added Slip Dresses To Its Lineup
Courtesy of SVNR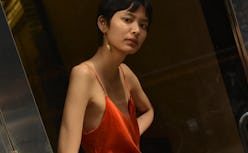 If you've been keeping a tab on the cool new jewelry designers in the past year, you've probably come across the name SVNR — or at the very least, stumbled upon its Instagram-friendly pieces. The brand's unique earrings and other products have become a popular choice among fashion lovers for their understated whimsy. Of course, these statement-making items can easily be the focus of your outfits, which may leave you at a loss for what to wear with them. However, with SVNR's new slip dresses, you're about to have the perfect summer ensemble.
It's been nearly a year since SVNR first introduced itself to the world. And in that short amount of time, the brand's jewelry has become a welcome sight on every stylish Instagram feed. SVNR's founder Christina Tung created her brand with a commitment to ethical and conscious consumption. As a result, each piece — which is sustainably made using up-cycled objects and natural materials — feels like a relic of the time it was created.
Maintaining the ethos of its brand, SVNR has launched its take on the classic slip dress. Available in two lengths — the Tunic Slip, $275, and the Midi Slip Dress, $295 — these 100 percent silk dresses will be the answer to your hottest summer days. And for the moments when you want to give them a modern twist, they each feature a drawstring for optional ruching for an asymmetrical silhouette.
Inspired by elements of nature, SVNR's dresses come in 10 colors that range from vibrant red to pearly white. According to the product description, each dress is "dyed to imperfection," leaving a subtle tie-dye effect along with the one-of-a-kind spirit that you find in SVNR's jewelry. And because these two styles are so minimal and timeless, you can wear them with anything — including layers of the brand's baubles.
If you're looking for an easy and effortless everyday style, opt for the Tunic Slip — which can also be worn as a mini dress — in Ocean or Forest. Pair it with one of SVNR's pretty necklaces and throw a denim jacket over it when the nights get cool. For special occasions, any one of the brand's Midi Slip Dresses will look chic when styled with delicate, strappy sandals. The Midi Slip Dress in Cloud could even work for a rehearsal dinner or a beach wedding for the minimalist bride.
If you're ready to add these into your summer wardrobe, scroll down to see SVNR's slip dresses below.