All The Kitchen Essentials You Need From Sur La Table's Cookware Sale
Le Creuset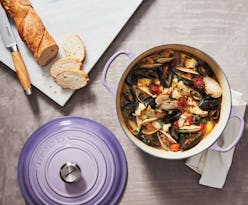 Like it or not, most people can agree that luxurious cookware brands like All-Clad, Le Creuset, and Staub are worth the more expensive price tags. And you probably love it if you can easily get your hands on the legendary brands — both professionals and foodies alike rely on the famously durable kitchen essentials. However, if you can't routinely splurge on $200 skillets or $250 Dutch ovens, you may not like it quite as much. Fortunately for you either way, the Sur La Table 2019 Cookware Sale is happening right now — and there are bargains to find on luxury cookware, whether you're stocking up your kitchen cabinets or investing in your first piece.
You can shop the semiannual event on Sur La Table's website, too. The discounts are relatively straightforward: Some prices are automatically reduced, and other pieces require you to type in the promo code SEAR19 at checkout. You shouldn't shy away from those deals, though; some of the best bargains require the discount code, like this All-Clad HA1 Nonstick 13-Piece Set. Regularly $599.95, the code brings the price down to just $479.96 — and no one needs to tell you that that's a steal for three All-Clad skillets, two saucepans, a sauté pan, a soup pot, and a stockpot.
Looking for more colorful cookware? As you know, that's where Le Creuset and Staub come in. Both brands are famous for colorful enamel cookware — the pieces are like works of art you can also cook dinner in. Regularly $249.95, this Le Creuset Dutch oven — one of the brand's most popular pieces — is on sale for $149.96. It comes in a variety of colors, including red, pale blue, and "Flame", the brand's signature fiery orange shade.
Not to be outdone, Staub's 4.5-quart Perfect Pan is just as colorful, and on sale for $149.96 from $239.95 depending on which shade you choose. The simple black colorway is a classic that will go with any kitchen, while the "French Blue" or "Cherry" shades may be exactly what you're looking for if you're hunting for something brighter.
Below, all the kitchen essentials to shop from Sur La Table's huge Cookware Sale.