These 5 Swimsuits Were Designed To Make You Feel Powerful (& Stylish)
Courtesy of Summersalt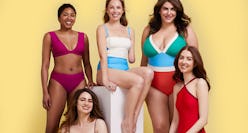 It's no secret that swimsuit season doesn't always feel like how it should. Like how it does in the movies, or at least, in swimwear advertisements — then, it's all laughter and beachfront bonfires, where everyone apparently knows how to surf. While Summersalt's Power Suits capsule may not teach you how to catch a wave, it is combating one of the main problems with swimsuit shopping: The fact that many people just don't like to do it.
It's a tall order. To help disassociate discomfort from swimwear, Summersalt started on a relatively small scale; the brand brought on five women and collaborated with each one to create five unique, confidence-boosting swimsuits. This may sound familiar to you, too — Summersalt's first Power Suits collection dropped last year.
"Launching the second class of Power Suits, with these incredible women, is the manifestation of who we are as a brand," Summersalt's co-founder Reshma Chattaram Chamberlin tells The Zoe Report over email. "We strive to be more inclusive, truly address our consumer's needs, and build community. These women and our consumers inspire us to be better everyday."
"With this new class, we added new silhouettes, extended sizing from 2 through 22, and each suit truly addresses a consumer need without sacrificing style," Co-Founder Lori Coulter adds.
The effect goes beyond the five designers, too. Summersalt revealed the thought process that went into each of the $95 swimsuits. Unsurprisingly, the concept behind every single one is relatable; the designs spotlight common desires women have when swimsuit shopping that often aren't fulfilled by what's available to buy. Some of the women, like multimedia artist Isabella Huffington and journalist Alicia Quarles, were all about style — using bold, warm colors that instantly put some pep into your step; you can see the shades for yourself in their Plunge Bikini Top, High Leg Mid Rise Bikini Bottom, and The Fused River swimsuit.
Megababe founder Katie Sturino and anti-bullying activist Aija Mayrock both focused on support. Sturino's suit — The Atlas — is a figure-hugging color-blocked piece that's still supportive. Mayrock's design is a gorgeously nostalgic swimsuit named The Harbor; it zeroes in on providing powerful bust support and a cinched-waist silhouette.
However, Sarah Herron — founder of SheLift — may have thought up the most game-changing swimsuit in terms of design. Herron took a page from Summersalt's zero-hardware swimsuits and married the concept with body-hugging lines. Named The Sunbather, the suit features a summery pale blue, crisp bright white, and an on-trend square neck silhouette.
Maybe the best part of all, though, is knowing that each swimsuit was designed by women, for women; when you wear the pieces, you'll know it was created to make you — and thousands of other shoppers — feel like a bombshell. Below, all five swimsuits from the 2019 Power Suit collection.