Stylist Rachael Wang Reveals Every Single Thing She Bought In A Month
Christian Vierig/Getty Images Entertainment/Getty Images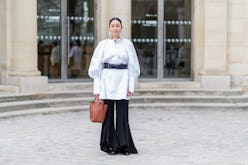 The Zoe Report's Everything I Bought This Month series highlights one trendsetter's spending habits over the course of a month, focusing not on groceries or utility bills, but on the fashion, beauty, and lifestyle picks they buy — non-essentials that actually feel, well, pretty essential. For this installment, stylist Rachael Wang walks us through 30 days-worth of purchases, including a second-hand pair of Celine boots you'll want immediately.
Rachael Wang is the ultimate cool girl. The sought-after fashion director-turned-stylist spent almost a decade working in-house at magazines like Glamour, Nylon, and Allure before making the move du jour: going freelance, of course. And even though she could have spent the next few years leaning into her casual street style star status by indulging photographers and peacocking outside the Fashion Week shows, she'd rather be in her seat at the show's actual start time — making her an anomaly of the industry.
It's worked out for her: Wang successfully launched her own brand consultancy, Rachael Wang Studio, in 2017. Just a quick browse through her client list (which includes her alma mater, Allure, along with brands and publications like Nike, Bottega Veneta, Opening Ceremony, Wonderland, and Vogue Japan) shows her impressive visual range as a stylist and a consultant.
But unlike so many embedded in the fashion space, Wang doesn't consume at a pace that puts most shoppers to shame. A champion of sustainable fashion, she's almost become the quiet poster girl against conspicuous consumption. In spite of her career, or possibly even because of it, she's chosen to keep a truly curated wardrobe, a mindset that's spilled over to her vanity and kitchen, too. (She's a vegan.)
"I recognize that my privilege allows me the opportunity to support socially and environmentally responsible brands, and that not all people have the means to afford this luxury of choice," Wang tells The Zoe Report. "But I do hope that these purchases over time create a certain amount of demand, and that neglecting non-sustainable brands encourages the industry to adapt to meet those consumer demands."
With that in mind, here's everything Wang bought in a month.
AGOLDE Jeans
"Hands-down, AGOLDE makes my favorite off-the-rack jeans. Of course I'll always, always, always worship at the altar of vintage Levi's, but when it comes to buying new, you really can't beat the Riley, the Jamie, and the Remy, in my humble opinion. And in case anyone gives a hoot, after a solid three-year romance with tight and cropped, I'm starting a new fling with long and loose. I really appreciate AGOLDE's transparency. The brand manufactures in company-owned facilities, which allows for quality control and reduction of environmental impact. For years, the brand has used technology to process denim in a way that is more environmentally responsible, using 40% less water and 20% to 30% less gas than traditionally processed denim, plus a closed loop water recycling system."
Hara The Label Bra
"Hara's bras are great for light support as I'm not a fan of underwire. I love that all its lingerie is dyed with natural turmeric, indigo, or madder root, and made from bamboo fabric. Bamboo doesn't require pesticides, insecticides, or fertilizers, and it thrives on rainwater alone, as compared to the some 2,700 liters of water it takes to grow the cotton to make a basic T-shirt — and it absorbs more of the greenhouse gas carbon dioxide than trees."
Patagonia Fleece
"I must admit, I've been feeling the pull of Gorpcore lately, and felt an urge to add this Patagonia fleece to my rotation. Can we talk about how excellent Patagonia's color naming team are? (I chose 'sediment.') Also, as everyone knows, Patagonia promotes fair labor practices, safe working conditions, and environmental responsibility throughout its supply chain."
Old Celine Chelsea Boots
"Hedi [Slimane's] second collection got me pretty down, so I did what any Philophile would do and self-soothed by buying a pair of old Celine Country Chelsea Boots on my favorite designer second-hand resource, The Real Real. Even though I'm vegan, I feel perfectly comfortable consuming second-hand leather because it keeps clothing out of the landfill, which is of course, the best way of all to shop sustainably."
Tarte Brow Pencil
"I micro-bladed my eyebrows, but I still like to fill them in for added definition. Tarte is my favorite cruelty-free, vegan makeup brand that doesn't use mineral oil (petroleum), hormone-disrupting parabens, organ-damaging phthalates, or neurotoxicity-causing sodium lauryl sulfates."
AG Hair Shampoo
"I have fine, thin hair, and AG apple cider vinegar sulfate-free shampoo works great for me. I buy the giant 33.8-ounce bottle."
Erbaviva Deodorant
"I love the smell and spray application of this jasmine grapefruit organic deodorant, and it seems to work pretty well for me as far as natural deodorants go. Pro-tip: It's non-staining, and can also be used on fabric and yoga mats in a pinch. Erbaviva is among the few companies worldwide to achieve B Corp certification, meeting rigorous standards of social and environmental performance, accountability, and transparency."
Jade Yoga Mat
"Speaking of yoga mats, I bought this one to jam into my suitcase because I travel constantly, and it's so nice to start or end a day with a few conditioning sun salutations. Jade's mats are made from natural rubber tapped from rubber trees, which is a renewable resource, plus the brand plants a tree for every mat sold."
THINX Underwear
"I've been using a re-usable menstrual cup for the past couple years but wanted to try out THINX for a little extra protection, and I love that they do an organic cotton version. I have to say, the period-proof tech of these things is pretty incredible."