This One Piece Is The Key To Mastering Rainy-Day Style
Wayne Tippetts/Shutterstock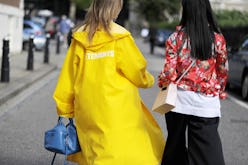 May's pretty skies are on the horizon, but that can only mean one thing: The world has to endure April's terrible weather first. The upside? Being able to shop one of the many stylish raincoats available right now to help make those soggy days feel a little less dreary. While spring is still a ways away, you can get ahead of the wet weather by adding a new slicker to your closet now. And until the sprinkles of spring arrive, just add a few layers underneath your raincoat when the forecast calls for a wintry-mix — because these styles are good enough to make you want to ditch your winter coat forever.
Gone are the days of a school-bus-yellow raincoat being your only drizzly day option (though those exist, too, and they're more stylish than ever). Now, coats are available in a variety of colors, various patterns, and diverse silhouettes that are equally as chic as they are functional. You can even embrace one of the season's biggest print trends in your rain gear with Topshop's Leopard Print Mac. The belted style will keep your outfit looking elevated and will pair well with everything from office attire to an LBD.
Minimalists will love the styles offered from Rains, a contemporary rain-wear lifestyle brand, that offers streamline silhouettes in a slew of colors. Begin by taking a look at the W Coat for $125; though it comes in a few neutral hues, shake it up this season and shop the matte-finish coat in a pretty pastel shade of lavender.
Color-enthusiasts can brighten up a gray day with a bold, red PVC raincoat from Moncler for $1,130. The coat's roomy fit makes it ideal for layering cozy knits underneath on chilly, damp days. Or, those same shoppers who don't shy away from a poppy shade can opt to throw on a color-block raincoat from Hunter, which is now on sale for $198 from $395.
There's also the option to have the best of both worlds with this Stutterheim Stockholm Transparent Raincoat, $325. The see-through style allows you to show off your well-curated outfit underneath while also protecting it from a downpour — a definite win-win.
Continue on for 19 stylish raincoats to shop before the next big storm arrives.