Here's How To Shop Stuart Weitzman's New Neon Collection Before Everyone Else
Courtesy of Stuart Weitzman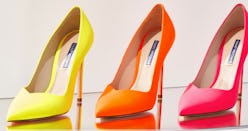 As with any limited-edition Stuart Weitzman collection, time is of the essence. Especially so for the new Stuart Weitzman Neon Capsule collection. The on-trend collection bathes signature Stuart Weitzman styles — yes, including the cult-classic Nudist sandal — in fluorescent pink, yellow, and orange. Naturally, the collection's already been spotted on Jennifer Lopez, Ashley Graham, and Olivia Culpo — and photos of those appearances have already popped up on Stuart Weitzman's Instagram page. Where, coincidentally, the brand announced to its followers that the Neon Capsule is actually available now.
Which is not something you would know just by visiting Stuart Weitzman's website. The brand announced the capsule collection via @StuartWeitzman on April 16, with the official website release still to come a full 24 hours later, on April 17. While that may sound like a relatively short window of time, it may end up making a serious impact: Stuart Weitzman's IG account currently has over one million followers and you can bet on them wanting all of the new neon styles.
Wondering what those are, exactly? Those details have already landed, too. The Neon Capsule includes three new colors of the Nudist sandal, Anny pump, and April belt bag. For the more streetwear-minded shopper, Stuart Weitzman also included kicked-up versions of its SW-612 Sneaker and SW-612 Bootie Sneaker.
Prices start out at $398 (for all of the shoes, save the Bootie Sneakers) and top out at $450. While it may be pretty hard for you to pick, if you do have to choose just one piece from the capsule, grab the neon orange Anny pumps; Olivia Culpo's street style proves the shoe is a win — and coordinates perfectly with the similarly-bright Jacquemus bag she sports in the pic.
However, it's understandable that another piece from the Neon Capsule may catch your eye (honestly, all of them might — the colors are that bright). To see all of the pieces and shop the entire collection early, just visit Stuart Weitzman's Instagram; you'll be able to shop the limited-edition collection just by tapping the links.