The Thoughtful Reason Behind The Launch Of Still House's New Wedding Collection
Still House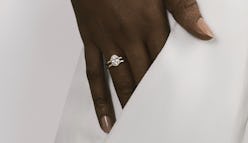 No matter how jewelry finds its way into your personal collection, there's no doubt that each piece has its own level of special meaning. There are some styles like your wedding jewels that may carry more sentimental weight than others, and because Still House's jewelry collection puts so much thought into its pieces, expanding its offering to bridal seemed like a natural evolution.
According to the page for its new bridal line — which is titled SH Wedding — Still House decided to make its foray into wedding jewelry to honor "enduring forms and compelling negative spaces." Each ring is created with the notion that simple, minimalistic design can transcend the trends of today. As a result, the SH Wedding pieces, which are designed by Still House's owner and founder, Urte Tylaite, feel both elegant and current while maintaining a timeless appeal. However, if that wasn't enough for you to consider Still House for you and your significant others' wedding rings, each style in the SH Wedding collection is made using recycled metals and ethically sourced diamonds.
Perhaps you've already heard of the design and jewelry destination. The New York-based brand is one to keep on your radar for chic home goods and fine jewelry. After launching in 2011, the brand became known for its carefully curated selection of design-forward pieces. Not long after, Still House launched its in-house jewelry line, which came out of the idea to create a collection of delicate, minimalist jewelry inspired by geometric shapes. Now, Still House has brought that mentality to its bridal pieces.
If you happen to be shopping for an engagement ring, Still House has plenty of options to choose from. Though each piece is undeniably timeless, the $5,300 Ema Ring feels chic and simple, which is perfect for any minimalist. On the other hand, if you're looking for something that makes more of a statement, you won't go wrong with the double-banded Mes Ring, which is available for $9,350 and showcases a classic oval diamond.
Anyone who wants an alternative stone can opt for the Veni Ring, which has a Montana sapphire. Another great option is Still House's $2,100 Cara Ring if you're looking for a style with a blue sapphire, instead. And to complement these engagement rings, Still House also has wedding bands, like the $320 Elda Ring or the $1,600 Les Ring, if you like an added sparkle. Just in case you fall in the category of the modern minimalist, the brand's $1,720 Visa Ring feels like a cool and unique update on the traditional band.
Scroll down to shop Still House's SH Wedding collection below.