St. Agni Put An Unexpected Spin On This Classic Summer Shoe & It's Seriously Chic
Courtesy of St. Agni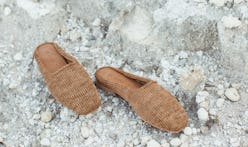 Though every season comes with its own particular set of trends, there are also a few classic styles that come back each time. Case in point: leather slides. Simplistic in nature and typically seen in neutral hues — with the occasional color here and there — leather slides and sandals will always remain a classic. And when you've got a chic and unique iteration of a timeless shoe like St. Agni's knitted leather mules, it's something worth paying attention to that will give your ensembles a cool update for season.
Australian brand St. Agni is known and loved by fashion girls everywhere for its beautifully minimalist designs and neutral color palette. The brand's latest shoe style, the Mae Knit Mules, is no exception. Available for $295, these stylish flat slides are created using a special leathercraft technique for knitted leather, developed exclusively by the brand. The slide promotes the use of artisanal works, with each shoe knit to shape on a manually operated loom by trained artisans. The knit leather technique is also seen in the Desi Knit Mules, $295, which feature a loafer-like shape.
While this technique and shoe style are new for the season, St. Agni has become widely adored for its woven styles, which come as sandals like the Corfu Woven Slides and heeled mules, such as the Bernad Woven Mule, a sleek, everyday shoe to elevate even your simplest outfits.
In search of more perfectly simple shoes from St. Agni? The brand also just collaborated with The Dreslyn, a Los Angeles-based retailer with design-driven minimalists in mind, to create the George Glove Flats, $205. The George Glove Flat is a smooth leather flat that will hug your foot just so, and is available in three different colors: ice blue, beige, and white.
If you're looking for those easy shoes to slip on with everything you own, whether it's a pair of relaxed and worn-in jeans or a pretty sundress, you'll want to wear a pair of these timeless St. Agni shoes to wear everywhere you go. Throw them on as you head out the door to run errands, or take them on your next vacation — these shoes will never go out of style.
Shop St. Agni Mules