Sophie Turner's Closet Offers The Ultimate Spring Outerwear Inspiration
Spartano / BACKGRID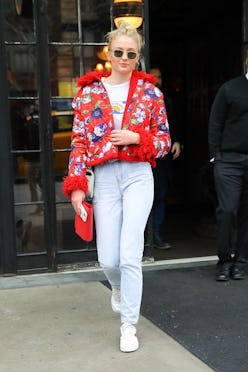 Contrary to what they say on the actor's hit HBO series, winter is not coming. Warm weather is, though, which means it's finally time to put those heavy puffers away and stock your closet with lightweight layers instead. As you begin curating your spring jacket lineup, take a peek at Sophie Turner's style for the ultimate inspiration.
When Game of Thrones was initially catapulted into fame, the Northampton teen who played Sansa wore what every other 15-year-old would on a red carpet: ruffles, lace, and flowy A-line silhouettes. Eventually, Sophie Turner's style blossomed from young Disney princess to fearless risk-taker.
Now, the actor has become a full-blown fashion authority, sitting front row at runway shows and joining the likes of Kendall Jenner and Gigi Hadid in the street style scene. You can typically find her hand-in-hand with her Jonas brother fiancé, sporting her usual activewear or some sort of other edgy ensemble.
Lately, she's been battling the chill with trend-forward outerwear that would put that trusty jacket you wear every year to shame. The Carhartt coat she just debuted, for instance, is a perfect match for your combat boot collection. Her bright-red floral jacket, on the other hand, radiates a retro-feminine feel.
Ahead, four of Sophie Turner's lightweight jackets to copy this spring.
The Utility Jacket
The actor's most recent outing in New York was perhaps one of her strongest street-style moments yet. She wore a cropped black Carhartt jacket over baggy drawstring-waist pants and Louis Vuitton sneaker boots, adhering to the workwear theme. The utility look has been trending for a while now and a lightweight cargo jacket could be the perfect opportunity for you to try it out.
The Varsity Jacket
Turner has proven time and again just how much she prefers the bubble silhouette of a classic bomber jacket. The version she wore in Nov. had a vintage feel to it, too. The actor tucked her graphic tee into a pair of high-waisted black jeans and wore them with super-tall combat boots. A green varsity jacket with bright-yellow trim kept her warm.
The Cropped Puffer
Cropped puffers were all the rage this past winter and Turner, of course, didn't hesitate to sport the trend. In Dec., she layered a slate-gray version over a thick turtleneck and jeans (paired with those same Louis Vuitton boots she obviously adores). Her variation of the average cropped puffer was super roomy and light for spring.
The Statement Jacket
Turner doesn't always sway toward the uber-feminine looks that used to define her style, but when she does, the actor doesn't hold back. In Feb., her fire-red, feather-trim jacket caught plenty of attention. The statement jacket featured all-over purple blooms — the kind you might see on a thrift-store sofa — giving Turner's look a throwback feel worth copying.