Sophie Turner's Jeans Are A Wardrobe Staple You'll Want To Wear With Everything
Lars Niki/Getty Images Entertainment/Getty Images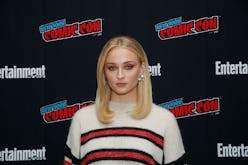 Step aside, blues and whites: Charcoal is the budding trend in denim. The gray jeans Sophie Turner just debuted in London are the pants you probably threw out 20 years ago. The actor's nostalgic look is the next installment in '90s fashion, so you'd better get acquainted ASAP.
Perhaps she's empowered by her superhero character, Jean Grey, or feeling unstoppable since returning to her home turf, but whatever the case, Turner has been on a serious style parade during the X-Men: Dark Phoenix tour.
The Marvel team arrived in the UK earlier in the week and the home advantage has made Turner's style even bolder (if that's even possible). After bouncing between Louis Vuitton, Altuzarra, and Cushnie, the actor now seems to be channeling her own X-Men comic book character with her latest leather top by Isabel Marant.
Kate Young, Turner's stylist, has been incorporating subtle tributes to Jean Gray, who Turner plays, with futuristic details all week long. The top — part Matrix, part '80s — was so bold it could really only be paired with one thing: gray jeans.
Her ash-colored skinnies adhered to the whole rocker motif so effortlessly. And if this fierce trendsetter is on board with charcoal-wash denim, then the retro trend must be in style again.
Gray jeans are slowly but surely becoming a thing, thanks to fashion girls like Kourtney Kardashian, Gigi Hadid, and Kendall Jenner. And though you might be cringing at the thought of buckling up your favorite pants from high school, you should actually just be happy you no longer have to make the crucial decision between a light or dark wash each day because gray is the ideal balance of both.
This charcoal hue is surprisingly versatile, pairing just as well with Turner's edgy black leather as with a romantic white eyelet top. In fact, animal print goes with gray denim better than just about anything, so break out the leopard spots and tiger stripes and sport these old-school skinnies without reserve.
A few of The Zoe Report's favorite versions, ahead.
Shop The Look