Sophie Turner Just Proved The Checked Blazer Will Never Go Out Of Style
Rich Fury/Getty Images Entertainment/Getty Images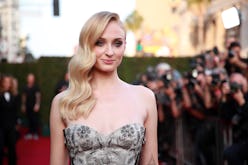 It must be difficult to pack for a destination wedding, especially when you're the bride. Now thought to be days away from her highly-anticipated (and secretive) walk down the aisle, Sophie Turner is in Paris wearing her plaid blazer literally everywhere. On Tues., her menswear-inspired layer became the key piece in an otherwise average weekend look.
Joe Jonas and his bride-to-be have kept the world in wonder regarding their upcoming wedding. The couple landed in the City of Love (where else?) last week, along with fellow power couple Priyanka Chopra and brother-of-the-groom Nick Jonas. The entire family seems to be having a week-long party leading up to the main event.
Turner is, of course, a street style authority, so what she packed in her suitcase is of utmost importance. Over the past week, the Game of Thrones actor has proven that she has the same strategy as the rest of us when it comes to traveling: Pack the basics that you can mix-and-match for endless outfits.
Her style in Paris has relied on such simple and versatile pieces as a Dickies crop top, a pair of cropped jeans, a baggy white tee, and an oversized checked blazer that goes with everything, apparently.
Turner has been sporting a brown plaid Givenchy blazer constantly during her excursions abroad. It's the classic office staple you'd probably imagine your dad wearing, with a double-breasted silhouette and a touch of light blue.
She debuted it on Sun. over a graphic tee, denim shorts, and chunky sneakers. Then on Tues., she sported it again with her pencil-leg jeans, her favorite Dickies crop top, and snazzy Dior pumps: the perfect hybrid of casual and dressed-up.
On the scene for more than a year (certainly longer than the average fad lasts), the plaid blazer is the trend that won't die. Turner and the rest of the it-crowd just keep styling it in fresh new ways and your wardrobe should be grateful.
Now you know not to leave the country without one of these versatile layers on hand.
Shop The Look