Sophia Amoruso Reveals What She Would (And Wouldn't) Change About Her Past
Rich Fury/Getty Images Entertainment/Getty Images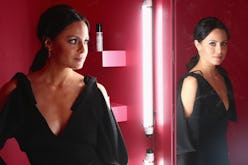 Success. Fame. Loss. Bankruptcy. It's safe to say OG Girlboss Sophia Amoruso has experienced it all — in the span of 10 years and by the age of 32, no less. After a rocket-ship rise to the top of the e-fashion world — at its height, her inaugural business Nasty Gal was reportedly valued at $350 million — she just as quickly found herself in the throes of bankruptcy, divorce, and a canceled Netflix show about her life. In the two years since her exit from Nasty Gal, Amoruso has taken the time to reflect, rebuild, and, most importantly, recharge.
"What I've started doing is taking myself out of my comfort zone in my personal life," she tells me. "I haven't had a choice to do it in my professional life, because everything's uncomfortable. But, for instance, I've gone backpacking in the last two years, which is totally not the norm for me. I'm just really appreciating simple things and the beauty the world affords us."
And while one might assume the loss of a business would be a sore spot, Amoruso doesn't mind looking back once in a while, saying she has mixed feelings about the whole ordeal. "I made a lot of hasty decisions at Nasty Gal and I could've been a lot more thoughtful," she says. "You just throw yourself at life and see what happens, and most of us are learning those lessons in private, but I think the fact that it happened so publicly to me has made it a lot more important and a lot more relatable."
Taking what she learned from Nasty Gal, Amoruso's wasted no time diving into her latest venture, Girlboss. With a weekly podcast, growing editorial site, and annual namesake rally that's quickly rising in popularity, it's clear the business mogul is up to her old tricks, but taking a fresh approach. "I can be a very reactive person," she explains. "A lot of people see avoidance as a bad thing and, if you're extremely avoidant, it can be very bad. But if you're not avoidant at all, you end up giving attention to things that you should redirect and say, 'This is your job, come back to me for a solution.' When you're running a company, it's your job to work on the business not in the business — which is really hard and pretty impossible to do at a start-up — but I try to spend more time doing that than running around putting fires out."
Amoruso's newly adopted tactic also eliminates unnecessary stress, an issue that is increasingly present in the workforce, particularly among millennials. In fact, a recent study found that more than 77 percent of older millennials (between the ages of 28 and 37) lose sleep over things like money, work, and relationships — the most of any age group. "If one is unemployed or failing to achieve financial success, that can weigh on almost all other aspects of life, including health and relationships with family and friends," says Mark Hamrick, senior economic analyst for Bankrate.com. This weight is also undoubtedly compounded by the current social media-centric climate.
"I think [millennials] approach careers differently," says Amoruso. "We see how fast people can move because of technology, and it can seem like others are winning. I think previous generations approached career from a longer-term perspective and understood that it takes time to really learn how to build the foundations of a sustainable career."
This new lease on business has freed Amoruso up for another formerly foreign concept: self-care. In spending a majority of her 20s managing a multi-million dollar company, slowing down or even acknowledging stress was just not a thing for her. "Only in my 30s have I started to crave a personal life," she says. "Not just the facade of a personal life." Yes, Amoruso says she now finds pleasure in the mundane — cooking dinner for herself, decorating her home, and even shopping fast fashion: "I'm stoked to shop at Zara!" Talk about coming full circle.