This Piece Will Make Your Kitchen Feel So Fancy — & It's On Sale Right Now
Food52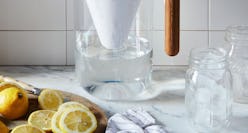 Black Friday may be over, but that doesn't mean the deals have come to an end, as this new week brings Cyber Monday. While shopping for clothing and beauty must-haves may rank high on your list of priorities, a sale on kitchenware shouldn't be overlooked, especially when you can snag chic counter essentials from Food52 at a discounted price. Until 11:59 p.m. ET on Nov. 26, pick up everything from glam gold measuring cups to sleek Soma Pitchers on sale for 20 percent off. By just using the code YAYMONDAY at check out, you can take part in all the deals.
A good place to start your shopping is with The Soma 10-Cup Pitcher, which is $32 (down from $40 during the sale). If you've been looking for a new water filter, now is the time to scoop this one up. Not only will this pitcher's modern, simple design and white oak handle look good on a table, but its filtering system will leave you with clean, refreshing water. Keep it out during a dinner party for guests to serve themselves and easily slide it into your refrigerator between meals.
This isn't the only item within Food52's offerings that strikes the balance of function and style. Take the Maison Plus Heavyweight Gold Measuring Cups & Spoons Set for instance, marked down from $48 to $38.40 with the discount code. The glistening gold measuring set will help to make sure your ingredients are accurate. And, when not in use it'll make a great accent piece for your counter top.
Similarly, you'll want to showcase the Hawkins New York Simple Walnut Wooden Spoons in a ceramic canister in your kitchen rather than tuck them away in a drawer. Toss mismatched utensils in the bin and score the complete set of seven carved spoons for $180.80 (originally $226) when you use the code.
While you're cleaning house, replace old cloth oven mitts that have seen better days with a pair of leather ones. Yes — leather — and never has this kitchen staple looked so good. The Dutch Deluxes Dutch Leather Oven Mitts are handmade from 100 percent full-grain leather. Due to their quilted heat-resistant lining, the mitts are able to withstand temperatures as high as 460 degrees Fahrenheit. Once $92, you can serve all your hot dishes in the dusty blue set for $73.60 when purchased on Cyber Monday.
In need of a hostess gift? This time of year may have your calendar filled with dinner parties, and one never wants to show up empty handed. Instead of bringing a bottle of wine, use this sale to shop a special gift, like beautiful cotton tea towels. Regularly $30, these printed tea towels are available for $24 each on Cyber Monday. Wrap them up with a cookbook that includes a handwritten note to the recipient for a standout present.
A sale is sure to make home shopping more enjoyable. Continue on to elevate the everyday items in your kitchen with better versions of themselves.