Soap & Glory Created 4 New Body Products Your Warm-Weather Skincare Routine Needs ASAP
ImaxTree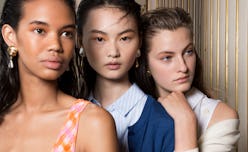 When it comes to beauty products, coconut scents are tricky. It's one of those fragrances that's so easy to overdo — regardless of whether a brand is going for the traditional coconut scent or something fruitier, like piña colada. That may be why the products from Soap & Glory's new Magnifi-Coco collection aren't just coconut scented. The fan-favorite brand's new drop of affordable skincare products are equal parts coconut and "clean"; a scent that's always in style, all year long.
And Soap & Glory's fans were waiting for a fragrance like this: The brand landed on the Magnifi-Coco scent after asking its fanbase what fragrance they'd love to see. At the moment, the only place to snag the new fragrance is at Ulta — all four new products are exclusive to the beauty retailer. However, it's worth a trip to your local store (or a click to Ulta's website). Besides the clean, beachy scent, the products are basically your one-way ticket to summer-ready skin, and not one of them retails for over $15.
Half of the products cost less than that, too. The Magnifi-Coco Drop In The Lotion Body Lotion retails for $12, while the Magnifi-Coco Clean-A-Colada Body Wash will only cost you $10 (and should win some sort of award for that clever fragrance name). Both the Magnifi-Coco A Cream Come True Body Butter and the Magnifi-Coco Buff and Ready Body Scrub cost $15 — but it's still a small price to pay for a coconut and fruit oil-spiked body butter and an exfoliator made from actual coconut shells.
All in all, the entire collection costs a little over $50, and it has everything you need to lather, exfoliate, and hydrate your skin this summer. While it's still new, fans have already left glowing remarks on the body butter's page, too. Besides the moisturizing oils, it also contains shea and coconut seed butters. And if those ingredients don't help your skin to glow fast enough for your liking, Soap & Glory also added a subtle sparkle to the body butter — so your skin will shimmer, inside and out.
Need yet another reason to try out the new products? Ulta is running a BOGO 50 percent off sale on the entire collection. According to Ulta's website, the Clean-A-Colada body wash has already sold out; however, you can shop all three other new Magnifi-Coco products below.