The Skincare Gifts Men Will Love, According To These Beauty Brand Founders
Courtesy of Soft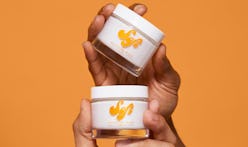 It happens to the best of us. No matter how well you know him, the impulse to Google "holiday gifts for him" — or "for dad", "for husband", et al. — is tempting. You just want to know what everyone else is buying, right? And then come the results: Watches, socks, ties, beer, and beer accessories. And beyond the occasional bottle of cologne, rarely will you see beauty gifts — let alone skincare gifts for men.
So, here's a hint for the holiday season, in case you are still searching for the perfect present: Men like skin care, too. "Gifting a product that's also an experience feels really impactful, especially during the holidays when people tend to get really stressed," James O'Dwyer, one co-founder of the new men's skincare brand Soft, tells The Zoe Report in an email. You may've seen the beauty brand on Vogue's website, or while scrolling through Instagram; its cheery retro packaging and inaugural product, the Moisture Mask, are the antithesis to traditionally hypermasculine beauty products for men.
Of course, that doesn't mean you need to stick to men's brands when you do your holiday shopping this year. "Since we started working on Soft over a year ago, we've made a concerted effort to try as many products as possible and really understand what works," says Patrick Dolezal, another Soft co-founder. He notes that boutique beauty brands — like Glossier, Herbivore, and Summer Fridays — can have "an edge over the mass-market brands."
One such contender? "I've also developed an immense love for The Ordinary, because every product is focused on an active ingredient (or sometimes a couple), which has been really helpful in understanding the impact of each active at various concentrations. It's been really beneficial in helping us think about our own formulas and interact with our formulist in a meaningful way," Dolezal explains.
And luckily, both Dolezal and O'Dwyer shared which beauty buys have found a way into their own skincare routines. Below, seven skincare gift ideas for the men in your life, inspired by their picks.