A Bunch Of simplehuman's Best Sellers Will Be On Sale For Black Friday
Courtesy of simplehuman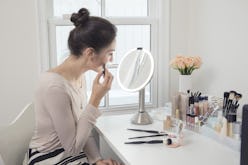 At some point, you've probably been browsing for a new trash can at Target and eyed simplehuman's sleek bins. The stainless steel trash cans are works of art, and the fact that they have voice and motion sensors? Mind-boggling. But if your budget made you choose a cheap plastic trash can over one of the sophisticated bins, you're actually in luck, because the brand just surprised the world with a major simplehuman Black Friday sale. The smart home brand (that rarely goes on sale) is discounting its best sellers up to 25 percent off, with everything from smart trash cans to powerful lighted mirrors on sale.
The Black Friday sale will be available exclusively on simplehuman's website starting Nov. 21 and ending Nov. 26. Ten simplehuman appliances and tools are included, including new releases like the Foam Sensor Pump. Four of simplehuman's famous trash cans will be on sale: the 58L Sensor Can with Voice Control will be 20 percent off, and the 58L Dual Compartment Step Can, the 58L Dual Compartment Sensor Can, and the 45L Rectangular Step Can will all be 25 percent off. That means the 45L Rectangular Step Can — which Business Insider dubbed the best trash can overall on the market in August 2018 — will only cost you $97.50 for a limited time.
You may be wondering why anyone would ever spend $100 on a trash can. Simply put, simplehuman aims to fix all the little trash can problems you didn't realize you had — and once you use one of its smart bins, there's no going back. The Rectangular Step Can isn't even one of simplehuman's most technologically sophisticated bins, and it's still smarter than the average can: It was created from nano-silver particle coated stainless steel with no bucket, allowing it to hold more trash and gather less germs. You can also stow bin liners in the can itself for easy access when you're on trash duty. The best part? You can get the trash can in rose gold.
However, you might still be more excited to learn that simplehuman's $200 8" Sensor Mirror Round with Touch Control Brightness will be 25 percent off during the sale. The lighted vanity mirror market is saturated, but simplehuman still manages to hold its own, with the mirror at almost a five star rating out of over 200 reviews on the brand's website.
The mirror gets its top marks thanks to what simplehuman calls tru-lux technology, created to be as close to natural lighting as possible. Grab the mirror while it's on sale for your vanity, or stow it in the bathroom for extra lighting — having a helping hand to light the way during foundation matching is always nice.
The year 2018 has yet to bring jetpacks, but you'll be living like The Jetsons with simplehuman's appliances around your home. Ahead, the ten simplehuman tools that'll be on sale for Black Friday, with info about what exactly the discount will be. And remember, the deals don't start until Nov. 21, so you have plenty of time to figure out exactly where each trash will go in your house.