Simon Miller Recreated Your Favorite 'Grease' Styles In This Very Nostalgic Collection
Simon Miller/Milan Zrnic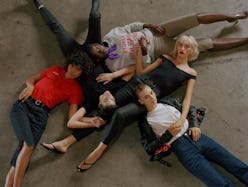 When it comes to pop culture, there are some things — no matter how long they've been around — that will always remain classic. One of those, with its sing-along-worthy music and loveable characters, is the iconic musical and movie, Grease. Of course, you can't think of Paramount's beloved film without lusting after its portrayal of the biggest fashion trends of the 1950s. And in celebration of the film's 40th anniversary, Simon Miller has collaborated with Paramount to create its Grease collection, which means you can wear the best looks from the film — no costume party required.
Ranging from $100 to $650, this collaboration includes a total of 12 pieces inspired by some of the most recognizable ensembles from the film and the decade that inspired it. Whether you find yourself to identify more as a T-Bird or a Pink Lady, this collection has you covered. Recreate your favorite outfits with pieces like this cool Faux Leather Biker Jacket, which costs $650, or this Ribbed Off the Shoulder Top, inspired by Sandy's classic look from the end of the film.
Hone in on your '50s aesthetic with a pair of Denim Capri Pants, $260, a piece you can wear with anything while still giving off the retro feel. Or, if you're looking for an option that feels a touch more polished, the Plaid Capri Pants aren't a bad option, either. Style this Rizzo Embroidered Mechanic Shirt with these tailored bottoms or with your favorite pair of jeans for an outfit formula that, despite its nods to the past, will feel fresh for 2018.
Simon Miller is known for making some of the best everyday basics out there, so it only makes sense to complement these vintage-inspired staples with a few pieces you'll never want to take off. This Danny Crop Top, which is available for $100, includes a simple embroidery detail dedicated to its namesake. Pay homage to your favorite T-Bird and wear this with the Coated Skinny Jeans, $330. These jeans will not only feel like a step up from your standard black skinnies, but they'll also go with everything you wear.
Of course, it wouldn't be a Grease collection without some classic memorabilia. For those who loved the flirtatious flair of the Pink Ladies, the Graphic Tee, which also comes in a version with a graphic of Sandy, will be the perfect way to show off your adoration for the girl group. If your favorite song from the entire show happened to be "Greased Lightning," you'll love the Rydell Graphic Sweatshirt, which will have you feeling as though you came straight from the film.
No matter what amount of nostalgia you have for this iconic movie, you can't deny that the capsule nailed the old school trends of the '50s in the best way. Now, Simon Miller has brought them back for 2018, proving that 40 years later, these trends still hold up. The collection is available exclusively at Nordstrom SPACE in-store and online, and you can scroll on to shop the collection below, too.