These Meghan Markle-Approved Boots Are Included In Stuart Weitzman's Major Cyber Monday Sale
Chris Jackson/Getty Images Entertainment/Getty Images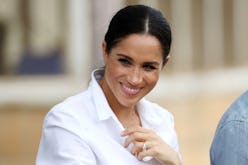 Of all the style lessons Meghan Markle has demonstrated since coming into the spotlight as the Duchess of Sussex, her affinity for amazing footwear has reigned supreme. From sleek and fabulous pumps to sophisticated flats, the royal knows how to switch it up, keeping her shoe situation fresh and unexpected. Even though raiding Markle's stiletto collection isn't an option, you can now snag one of her most noteworthy pairs of boots at discounted price, thanks to Stuart Weitzman's Cyber Monday sale. That's right, those swoon-worthy, utilitarian sock boots from the 37-year-old's royal tour are on sale and yours for the taking.
Based on this season's array of fashion-girl boot trends, Stuart Weitzman's Veruka Bootie (a lace-up, military-inspired style) isn't one to pass up. A unique hybrid of your standard combat boots and those trending sock booties everyone from Gigi Hadid to Rihanna has been seen sporting, chances are you don't have anything quite like these in your closet. Markle's boots are already 30 percent off their original $698 price tag, but through Cyber Monday, you can snag them for an additional 20 percent off with the code CYBER20.
Why not take advantage of a stellar deal and add the Markle-approved staple to your winter wardrobe? Because, let's face it, a shiny new pair of Stuart Weitzman's is always a good idea — especially when a discount is involved.
Markle's diverse style has continuously proven that even royals opt for a casual getup from time to time. On the New Zealand stop of her and Prince Harry's royal tour, Markle leaned into the military-inspired vibe with a faded-green trench and black skinny jeans, but the boots can be worn in a number of ways.
Truly a versatile staple, they'll pair wonderfully with a flowy dress or fitted midi skirt, if you want to go the feminine route. As you emerge from that turkey-induced coma and return to your regularly scheduled programming, ease back into the swing of things with a double espresso and a seriously fabulous Cyber Monday steal.
Shop The Sale