Chrissy Teigen's Facialist Just Dropped The Only 3 Skincare Products You Need
Shani Darden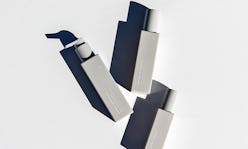 Winter weather is notorious for its drying effects on the skin. Not only does the cold environment leave skin dull and dehydrated, it can also make some of your favorite skincare products that much less powerful. Lucky for you, celebrity esthetician Shani Darden's new product launch is prepared to give your complexion some much-needed life (and glow) this season.
Darden took to Instagram to share the exciting announcement on Sat. by posting a photo of her three newest products: the Daily Cleansing Serum, Daily Toning Essence, and Daily Oil-Free Moisturizer. Designed to be used together, Darden's launch is the simple, three-step routine you've been looking for. Bonus: Each product comes in a sleek rectangular bottle, proving the aesthetic of Darden's brand is just as impressive as its formulation.
"I believe that skincare doesn't have to be complicated to be effective," Darden shares with The Zoe Report over email. "It's always been my dream to create a line of daily skincare essentials. I've worked for a long time on these and I couldn't be more excited for people to try them!"
Darden's popularity (and over 160,000 Instagram followers) is due in part to her impressive celebrity client roster. She helps big names like Chrissy Teigen and Jessica Alba achieve their famously radiant glows, thanks to her in-depth facials and science-based skincare routine. Now, getting a Teigen-worthy glow in the comfort of your own home is possible with Darden's new lineup.
The best part about Darden's line of essentials is that they're gentle enough for everyday use. And although her cult-favorite retinol comes in two formulas (Retinol Reform and its gentler sister, Texture Reform) all three products in the new launch are suitable for every skin type — she even made sure the moisturizer wouldn't cause congestion for acne-prone skin like other hydrating formulas on the market.
"My goal in creating these products was that they would be great for all skin types," Darden shares. Better yet, if you're tired of keeping track of which scrub and serum to use on each day of the week, Darden's essentials are all about going back to the basics.
Darden says the "Daily Cleansing Serum is a gentle yet effective cleanser that doesn't strip the skin," which means it's great for removing dirt and oil after a long day without drying you out. Next comes the Daily Toning Essence, which "helps regulate sebum production to keep your pores clear." Bonus? It'll also gently brighten your complexion, she adds.
Like all good skincare routines, moisturizing is key. "The Daily Oil-Free Moisturizer is lightweight, fast absorbing, and hydrating," Darden explains. "Skin types that are dryer or dehydrated can add in a hydrating serum before the moisturizer."
If you can't wait to get started on the skincare routine that's just as simple as it is effective, it's time to start shopping. Make like your favorite glowing celebrities and shop all three of Darden's new products for a foolproof routine, ahead.
Shop The Launch