This Insta-Famous Clothing Brand Just Launched A Collection Of Basics — & It's Good
Courtesy of Shaina Mote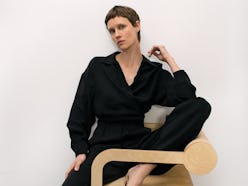 When you hear the word "basic" — particularly in the context of fashion — chances are pieces like a pair of classic jeans, a tailored blazer, and an essential white T-shirt come to mind. You probably already know that these unassuming (but necessary) staples will always have a place in your closet as foundational items. However, if Shaina Mote's Essentials collection has proven anything, it's that your everyday basics don't have to be boring — because these pieces are anything but dull.
If you aren't already a fan of Shaina Mote, there's one thing to know: The Los Angeles-based label is a minimalist's sartorial dream. Bridging the gap between functionality and artful tailoring, Shaina Mote brings a timeless — yet modern — approach to its clothes. Of course, if you don't find yourself to be on that end of the spectrum, the brand's clean and elevated designs will fit seamlessly into any type of wardrobe.
Lately, Shaina Mote has been creating eye-catching, Instagram-worthy pieces such as the sheer Asti Top. However, in the chance that you want something to wear for the office or more casual summer occasions, the Essentials collection is chock-full of items to add into your daily ensembles — and it's just as stunning as the rest of the label.
The 15-piece collection features chic and timeless pieces including utilitarian pants, linen T-shirts, and reimagined shirtdresses perfect for any occasion. As you update your work wardrobe, add the $322 Tulia Pant into the mix. Featuring an almost apron-like wrap, these wide-leg pants are a cool alternative to standard trousers. And if you want to wear something more feminine, the Aster Skirt can be styled with nearly anything and is available for $354.
If you happen to work in a more casual environment, the $345 Utility Pant creates the perfect blend of laid-back polish. Style it with a pretty blouse or opt for the 100 percent linen Classic Tee, which costs $123. These pieces are also great outside the office, but if you need something for a weekend picnic or a brutally hot summer day, wear the cotton poplin Nin Top, $235.
Scroll down to shop more of the Essentials collection below.