Sézane Just Put Your Search For The Perfect Pair Of Jeans To Rest
COURTESY OF SEZANE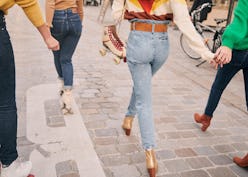 If one of your goals for the new year is to take a more sustainable approach when it comes to your wardrobe, you won't want to miss Sézane's new eco-friendly denim collection. The popular French direct-to-consumer brand has just released a lineup of styles that allow you to feel really good about wearing them. That said, as any avid Sézane shopper knows, pieces sell out very quickly, so you shouldn't waste anytime scooping up your favorite silhouettes.
Sézane's new environmentally conscious range offers up seven new designs that aim to deliver all customers the perfect fit and cut. The denim incorporates 100-percent GOTS certified organic cotton and uses two-times less water consumption during production. On top of that, the brand employs an eco-friendly wash process to attain your desired color and finish.
In addition to the sustainability component, the brand's jeans also now have even more thoughtful and stylish designs. For this collection, Sézane made changes to improve not only the pocket placements but the shaping of silhouettes to enhance your natural curves. Additionally, the jeans now boast specially developed seams that provide for a leg-lengthening effect.
For shoppers looking to replace their go-to skinny jean, take a look at The Perfect Slim for $125. The high-waisted jean is a closet essential that has a balance of stretch and structure; however, if you're on the shorter side (or just want to bare a little more ankle), opt for the cropped 7/8 fit version for $125.
Meanwhile, fans of straight, structured denim will gravitate toward The Brut Sexy, $125, while those who prefer a straight-leg with a more relaxed shape should set their sights on The Girlfriend — also priced at $125. Both understated and timeless styles, these two jeans are equally capable of becoming the MVP in your closet this season.
Another effortless silhoutte in the lineup is The Venice for $200. Featuring front pockets and a loosier fit through the leg, the versatile denim trouser is noted by the brand to be for those "who feel French at heart." But, if you're trying to show off all those knee-high boots you've accumulated recently, snag The Juno for $140; its cropped, wide-leg silhouette will allow your footwear to really shine.
On the hunt for a jean that brings an eye-catching twist? Take a peek at the belted, trouser-like Alvin jean. Or, consider The Parisien — a high-waisted matelot trouser with button-detailing. Each priced at $150, these two denim styles will bring a dressier feel to your look.
Continue on to shop Sézane's new denim collection, and don't wait too long to make your purchase — these jeans are likely to fly off the shelves quickly.