It's Time To Trade Your Matte Lipstick For Gloss, & Sephora's New Arrivals Are Proof
Kosas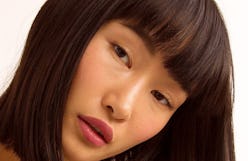 Step aside, matte lipstick: High shine is back in a major way. Perhaps the return of classic shades and high gloss was inevitable — or at the very least, expected — considering revival of the 1980s, with a touch of the early 2000s, that has been happening in the fashion and beauty realms as of late. Just in case you needed further proof, Sephora's February 2019 lipstick arrivals say it all. And if Sephora's carrying something, you know it's about to be everywhere.
As one of the biggest retailers in beauty products out there, it's Sephora's job to relay the latest trends from major makeup brands right into your collections, so it's safe to say it's onto something with its latest round of lipstick arrivals. Don't worry, you won't be retiring your matte shades just yet, but perhaps this is the time to switch it up with something that feels different — and let's be real, nothing says different quite like the complete opposite. Of course, just in case glosses aren't your thing, there are also a handful of classic colors with less shiny formulas you can stock up on and wear every day.
To add major shine to any of your much-loved shades, a layer of Gloss Angeles Extra Shine Lip Gloss from Smashbox, $19, will be exactly what you need. Or, if you want to keep it simple, just swipe it over your natural color. Want something with a little added shimmer? Opt for the Too Faced Rich & Dazzling High-Shine Sparkling Lip Gloss, $21, which instantly gives you a more dressed-up appeal, no matter what you decide to wear with it. Just in case you can't decide on just one, you can always get the Mini LUST: Gloss Trio from Pat McGrath Labs, which costs $25.
If you're hoping to get some new colors into your cosmetics bag this month, Sephora has plenty to choose from. Clean beauty brand KOSAS just launched its Weightless Lip Color Lipstick in Rosewater, a cool berry perfect for everyday occasions. If it's the perfect shade of red you want, this L'ANCÔME L'Absolu Rouge in Rouge Vintage, which comes in Chinese New Year-themed packaging, is it. Want another chic lipstick with cool packaging to go with it? The Le Marc Lip Frost Lipstick by Marc Jacobs Beauty comes in a gorgeous peach hue with hints of copper in a stylish (and very on-trend) leopard print tube.
Now, scroll down to shop more of the latest lipstick arrivals at Sephora below.