Selena Gomez's New Haircut Delivers Major '90s Supermodel Vibes
Jeff Kravitz/FilmMagic, Inc/Getty Images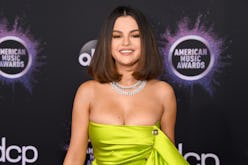 Anyone debuting a haircut this season needs to take a page from the sartorial playbook of Selena Gomez and her new bangs. Photographed on Dec. 11 while the star was working in London, Gomez unveiled her latest haircut with not one, not two, but three extremely '90s-inspired outfits in less than 24 hours. Which begs the question: Is there any other way to introduce a new hairstyle to your very own friend group? (Answer: no, not at all.)
Gomez first paired her brand-new shag haircut — which was shared on Instagram by longtime hairstylist Marissa Marino — with the '90s It-girl staple: A luxe animal-print fur coat. "New shag 💇🏻‍♀️ for London promo," Marino captioned her post, tagging celebrity makeup artist Melissa Murdick and stylists Kate Young and Beverly Nguyen as well.
The singer's zebra-print faux fur came courtesy of the clothing brand Mango — which sells it online for just $299.99, by the way — and was worn with a high-neck black top, muted rose lipstick, and quintessentially cool shades. And the printed coat's lighter stripes perfectly contrasted with the subtle ombré in Gomez's hair, which shifts her signature brunette tresses towards a warm caramel color throughout and near the ends.
From there, Gomez ditched the warmer layer, swapping it with a Louis Vuitton denim jacket to complete her Canadian tuxedo — and complement her LV jeans to a T. (The chunky heeled boots are icing on the throwback cake, too.)
Gomez wasn't done with animal print for the day, though. Later on, the singer wound down her evening in Burberry's Lace Panel Animal Print Slip Dress, wearing it over the aforementioned black turtleneck and under a leopard-lined trench from the house. And yes, surprisingly, the Dalmatian-and-leopard combo seriously works.
And really, that warm pink lipstick deserves a shout out, too — it went with every single outfit Gomez wore, animal print or no. While you may need to turn to your own hairstylist for bangs, keep on scrolling to shop three similar lip colors that'll carry you through any ensemble.