This New Perfume Collab Explores The Gender Binary Via Colorful Fragrances
Scent Beauty/Instagram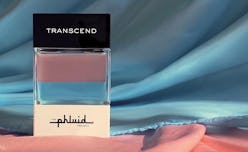 "What is perceived as masculine and feminine in beauty and scent has too long been predetermined for us," notes a press email quote from Rob Smith, CEO of self-described "gender-free" clothing and lifestyle store The Phluid Project. Smith — one of the many people behind the new Scent Beauty and The Phluid Project Scent Elixir Collection — continued by noting that this marketing had yet to break through the gender binary. "It is a great honor to partner with Scent Beauty in redefining beauty and scent, and to create fragrance which does not suffer the constraints of gender," Smith explained.
As it were, Scent Beauty's latest collaboration uses unisex (or genderless) perfume as a vehicle to explore these concepts. The fragrance collection, which dropped online at the end of November, is a team effort between The Phluid Project and Scent Beauty — who you may know best from its recently released Cher Eau de Couture fragrance. (Yes, that Cher.)
"Our perfumers — who worked hand in hand with the LGBQTIA+ community — have crafted beautiful, wearable, provocative scents that defy traditional definition," reads a quote from Stephen Mormoris, CEO of Scent Beauty, in the same email. "These fragrances exude color, vibrancy, and integrate scents from nature, gardens, cities, the human body, and fresh air."
Scented with notes like dragon fruit, cardamom, and clary sage, each $65 fragrance from the new collaborative collection uses colored immiscible liquids that — when shaken — blend together into completely new hues. The pink-and-blue Transcend fragrance becomes a hazy purple, whereas the blue-toned Balance scent transforms into one uniform shade. After a while, each perfume will go back to its original, color-separated form, too; a magic trick you can display on your vanity.
Keep an eye on the Scent Elixir Collection throughout December, as well; the pink-on-pink perfume Intention ($65) will be dropping midway through the month, bringing with it a peppery, rosy scent tempered by cedar. 'Til then, explore the two released fragrances from the Scent Beauty x The Phluid Project collab by scrolling down, or visiting ScentBeauty.com.