You Can Now Pick Up Saint Jane's CBD Face Serum In-Store Thanks To Sephora
Courtesy of Saint Jane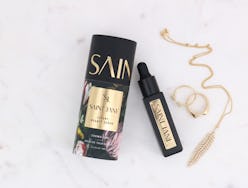 CBD has invaded my beauty routine. During the day, I smooth on CBD lip balm, run CBD oil through my hair, and hydrate my skin with CBD moisturizer. At night, I break out the CBD body butter, overnight treatments, and — if my skin is particularly dry — Saint Jane's Luxury Beauty Serum. Which, in case you weren't aware, is the very skincare product that kickstarted my infatuation with the ever-popular cannabidiol; and I'm not the only one who's fallen for it (see: TZR's 2019 Beauty Awards). And as of Jan. 10, Saint Jane is now available in Sephora stores — making it that much easier to get your hands on the brand's intensely moisturizing formulas.
"At Sephora, we strive to provide clients with the most on-trend and sought-after products," noted Cindy Deily, vice president of Merchandising at Sephora, in a press email. "We saw a strong desire for an assortment of prestige CBD offerings, and Saint Jane has been a pioneer in growing the space. With their goal of bringing CBD to the forefront as an efficacious ingredient in prestige skin care, Saint Jane is passionate about education and category innovation and ingredient exploration."
Deily continued by noting that Saint Jane will only be available at select Sephora locations — making it the second CBD brand after Lord Jones to be sold in-store. Of course, if your local Sephora doesn't feature the Saint Jane Luxury Beauty Serum ($125) or the Luxury Beauty Serum mini ($38, and a Sephora exclusive), you can still find both products online at the retailer.
And Saint Jane isn't the only beauty brand making waves at Sephora thanks to CBD-infused products. Josie Maran's Skin Dope Argan Oil + 100 mg CBD, Ellis Brooklyn's Marvelous CBD Massage and Body Oil, and Herbivore's Emerald CBD + Adaptogens Deep Moisture Glow Oil all have nearly perfect ratings on the retailer's website, just to name a few. So, while CBD may be designated to just one part of your beauty routine, you have plenty of shopping options to contrast and compare. Ahead, a handful of highly rated CBD products from Sephora to try out for yourself.