Rouje's Spring Collection Puts A French-Girl Spin On The Slip Dress & It's So Chic
Rouje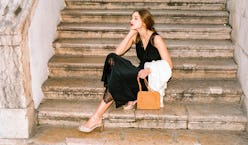 The love affair between the fashion industry and French culture, to put it simply, can't be ignored. Of course, there's a good reason this relationship seems to be never-ending. Blame it on the effortlessly cool aura that appears to be surrounding every French woman, the chic and classic minimalism, or that je ne sais quoi, but one thing can be confirmed: The French know good fashion. And just in time for the remaining days of Paris Fashion Week, the final stretch of fashion month, Rouje's Spring 2019 collection has officially launched.
Founded by It girl Jeanne Damas, Rouje has mastered the perfect balance of casual and chic — in other words, the essence of the quintessential French girl — and the brand's latest collection is no exception. You'll find pieces like an everyday floral sundress that's bound to be a fashion-girl favorite and gorgeous vintage-inspired pieces that you'll no doubt have in your closet forever. Among these pieces are also jackets, timeless heels and handbags to complete your look.
Though you can never go wrong with a classic '90s style slip dress — a style that's been everywhere lately — Rouje's Linette Dress, which costs $210, will have you considering a new French-girl take on the silhouette altogether. Featuring puff sleeves and lace accents, this pretty piece is vintage-inspired with a touch of glam, and gives the slip dresses of 2018 a very '20s-esque update. Style it with the Nono Bolero Cardigan, $170, which comes in a pretty lavender-pink hue or a pistachio green.
One thing you can always count on Rouje for is stylish bohemian pieces, such as the Megan Blouse, $155, which is a romantic top that features delicate lace and textured cotton; this top will easily be a vacation staple. Sport it with a pair of jeans, and then add these suede Adella Shoes, $210, which are right in line with the understated, feminine look of the rest of the collection.
For a chic French-girl twist on kick-flare jeans, the white Bastille Jeans will be a spring and summer must-have for activities like weekend brunch. Add the Lino Cardigan for the moments when you need an extra layer, and then finish off your look with this Le J Handbag, which comes in three spring-ready colors: orange, coral, and pistachio.
Ready to give your closet a French girl-approved update? Scroll down to shop more from Rouje's spring collection, now.