Rouje's Latest Collection Has Everything You Need To Ease Into Fall
Courtesy of Rouje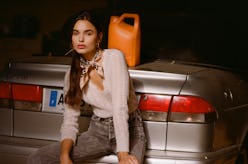 If there's any brand that knows how to consistently nail the highly sought-after French-girl style, it's Rouje. And if you thought you already had an unparalleled obsession with the Parisian brand, just wait until you see what it has in store for fall. During a time of year when you're putting together outfits that are both appropriate for the weather and the season, you'll need pieces to carry you from the heat of summer into the cooler days ahead. The brand is well aware of this, which is why Rouje's Fall 2019 collection is chock-full of stylish pieces to round out your transitional weather wardrobe.
Rouje's latest collection, "La Belle Saison" — which translates to "The Beautiful Season" — marks the end of one season and the beginning of the next with new pieces that'll work perfectly during this Indian summer as well as the later days of fall. Featuring feminine dresses to wear while it's still warm out and cool menswear-inspired pieces like trousers and coats to layer on as soon as the temperatures drop, this new collection will fit seamlessly into your fall wardrobe.
With French It-girl Jeanne Damas at the helm of the brand, Rouje has become known for its ultra-chic and vintage-inspired dresses — and the styles in its Fall 2019 collection fall right in line. The La Belle Saison collection introduces new silhouettes, like the '80s-inspired Anouk Dress and the Louison Dress, a combination of two of Rouje's most popular styles. Both pieces are available for $200 and can easily be worn year-round.
You'll also find a mix of chic tops like the $135 Antoine Blouse, which can be worn with a pair of jeans and loafers for a casual office ensemble, or the Paulin Cami — which also costs $135 — for a night out. Wear the lingerie-inspired top with the $160 Alexandra Skirt for an effortlessly romantic date night look or wear it with the $155 Giulietta Pants to give yourself a cool contrast of styles.
As the weather continues to cool down, you can't go wrong with cozy knitwear — no matter the occasion. Throw on the $170 Nino Pullover whenever you need a lightweight layer to add to your outfit. Or, style the $230 Tina Cardigan over a silk camisole with a pair of faded black jeans for a simple weekend outfit. And when you want to give it a touch of polish, sport the $275 Jacques Jacket over your shoulders for an unexpected layered ensemble.
Scroll down to see pieces from Rouje's La Belle Saison collection below. Then, head over to the brand's website to shop the full collection.