Rouje Dropped A New Swimsuit Collection With An '80s Throwback You'll Actually Want To Wear
Courtesy of Rouje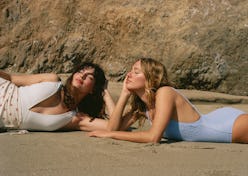 Just like that, it feels as if another season has come and gone. And while summer has yet to officially arrive, the days spent eagerly awaiting the new beginnings of spring seem like they were only yesterday. Of course, that's not to say there aren't things to look forward to in the coming months. After all — whether it's along the edge of a pool or the waves of a beach — summer is the season of soaking in the sun. And with Rouje's Coup de Soleil swim capsule, you'll have even more reasons to spend your time outside.
Named Coup de Soleil, Rouje's latest swim capsule hones in on the vintage-inspired French allure that the brand executes so well. The collection features both sleek one-piece swimsuits and chic bikinis, which are each available for $105. And if you love the return of '80s-style swimwear, there are also reimagined versions of two classic silhouettes that belong in your poolside wardrobe.
Blame it on nostalgia or the want for unexpected textures, but crepe fabric swimsuits have been taking over in a major way. Now, Rouje has its own version of the trend with the Nadia Swimsuit and the Lucy Bikini, which are both available in rosy pink and lilac.
Sport the Nadia Swimsuit with a breezy midi skirt and a pair of sandals when you aren't at the beach, or with shorts and a linen button-down shirt. If you find yourself in two-pieces more often, then you'll fall in love with the Lucy Bikini. While the swimsuit features the '80s crepe fabric, the overall silhouette is reminiscent of the 1950s with its high-waist bottoms.
Just in case you prefer something that feels more timeless, you can't go wrong with the Gisele Bikini. This bikini style boasts a classic balconette bra top and bikini briefs. Available in black, brown, white, and floral print, there's no doubt that this bikini will be in your regular swimwear rotation for years.
Another great option is the plunging Eva Swimsuit, which you can wear with a simple wrap skirt when you're getting drinks after a day spent in the sun. And if you're looking for something that feels truly inspired by vintage swimwear, you can't go wrong with the Alicia Swimsuit, which features buttons down the front.
Scroll down below to shop Rouje's Coup de Soleil capsule and add a French touch to your swimwear collection this summer.