Rosie Huntington-Whiteley Can't Stop Wearing This Chic Accessory
Dimitrios Kambouris/Getty Images Entertainment/Getty Images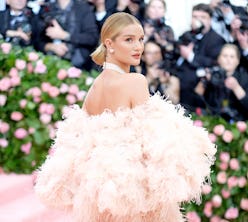 Given the opportunity to cop only one person's handbag collection, no fashion girl would pass on RHW's incredibly chic and expansive stock of bamboo beach bags, statement clutches, and travel totes. When it comes to arm candy, this model is the authority. The latest regular in Rosie Huntington-Whiteley's rotation is a white pouch bag that you'll be obsessed with, too.
If this stylish mom weren't a runway icon, she'd surely be a fashion blogger, judging by the way her Instagram page is full of mirror selfies and outfits of the day. We're definitely not complaining — her social media habits provide an endless amount of outfit inspiration and keep us in-the-know about trends to come.
In her latest PSA, RHW made it clear that the leather pouch bag is having a major moment. The model posted four outfits — filed under "London looks" — on Thurs., and they all include her new go-to accessory.
Huntington-Whiteley has been carrying around the Pouch Bag by Bottega Veneta constantly. Her obsession started in April, when she acquired the calf leather carryall in buttery brown. After carrying it nonstop for a month (probably wearing it down), she got another one in white.
The slouchy pouch has made an appearance in the 32-year-old's ensembles a dozen times within the past two months and she's not putting it away anytime soon.
Summer 2019's emerging mini duffles, crochet bags, picnic-style boxes, and straw totes were slated to take over 2018's micro carriers and bucket bags. This sort of soft-leather pouch silhouette, however, was slightly more unexpected.
A cross between a clutch and literal paper bag (which a few on the market have actually been modeled after), these strapless accessories' unstructured design gives them a chic-but-casual feel. Like Huntington-Whiteley, Victoria Beckham is also obsessed with her Celine version.
Lucky for you, RHW's Bottega Veneta Pouch Bag is still available. It and a few alternatives, ahead.
Shop The Look