Rosie Huntington-Whiteley Kicked Off NYFW In The Coolest Suede Jumpsuit
Presley Ann/Getty Images Entertainment/Getty Images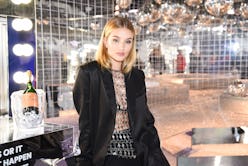 Ralph Lauren just transformed its iconic Madison Ave. boutique into a darling replica of Ralph's Coffee shop for the Spring/Summer 2019 runway show. There were plenty of familiar faces in the front row, among them Karlie Kloss, Camilla Belle, and Rosie Huntington-Whiteley in a suede jumpsuit. Even though she wasn't on the catwalk this time, the model still stole the show.
Leave it to this classic American designer to kick off New York Fashion Week right with a creative take on the traditional fashion show concept. On Tues., the brand invited its celebrity devotees to sip their morning lattés at its Madison Ave. location while watching the Spring/Summer 2019 fashion show. The boutique was temporarily converted into a model of the nostalgic Ralph's Coffee shop that resides on 5th Ave.
Apron-clad waiters kept the caffeine flowing while the biggest names in fashion flooded in to get a glimpse of the designer's latest looks. Rosie Huntington-Whiteley, a longtime fan of the brand, wore the dreamiest brown suede jumpsuit that could potentially be part of an upcoming collection itself. The long-sleeved number features an asymmetric wrap front, a polished collar, and cinching at the waist that descended into pleated, straight-legged pants.
While it's not quite on the market yet, it does bear a striking resemblance to Ralph Lauren Collection's baby-blue Judson jumpsuit that's made of wool.
Huntington-Whiteley's jumpsuit had a sort of '70s look to it that the model balanced out with super-modern accessories. She paired the matte one piece with futuristic sunglasses, a chunky gold necklace, a white envelope clutch, and strappy sandal heels.
This all-in-one outfit is the perfect piece for cold weather. It's an easy fix for weekend dressing and a sleek look for the office just the same. So, if the model's latest ensemble has propelled you into a suede obsession, then snag yourself a similar jumpsuit, ahead.
Shop The Look