Room & Board's Clearance Sale Is Full Of Deals On Its Perfect Minimalist Furniture
Room & Board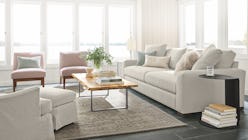 Decorating on a budget doesn't mean you can't still achieve high style in your space — the trick is just to utilize sales to scoop up those quality pieces you've been eyeing. And while some sales are too cluttered and overflowing to even bother looking at (especially when it comes to clearance), there are a few that are so curated with simple, perfect pieces that they can actually end up being fun to sift through. One such sale? Room & Board's clearance, which, though small, has everything you need for a perfectly minimalist home and none of the random pieces no one actually needs.
Right now, you can get up to 50 percent off Room & Board's modern furniture, rugs, and home décor within the sale. That means major savings on everything from sofas and chairs to dining tables — aka pieces that typically carry high sticker prices. Due to limited inventory, though, the clearance items are bound to move quickly — so if you see something you like, odds are it won't be around for long.
For those looking to spruce up their living room seating, you'll find several sofas on deep discount, including a sleek, bench-cushion sofa in a light gray hue priced at $1,999.99, down from $2,699. Just add in a few neutral pillows in different textures to create a sophisticated spot where you can read and watch movies comfortably.
In search of the perfect accent chair to complete your space? Take a peek at the luxe Lira Lounge Chair. Now down to $799.99 from $999, the chair's rich, cognac leather combined with the clean lines of its silhouette will elevate any space. And while you're at it, add the wood and steel Massey style into the mix. Its two-level design will provide ample room to show off your coffee table books, candles, and trinkets without feeling cluttered, and it's now on sale for $549.99 (it was originally $899).
Whether you're looking to give your space an overhaul or just replace that old accent chair, there are tons of deals living in Room & Board's clearance, each one as simple and high-quality as the next. Shop 17 of TZR's picks ahead, and click over to the brand's site for even more.