Reverie's Chic New Fragrance Is Opening Doors For Clean Perfume (& Smells *Incredible*): Review
Reverie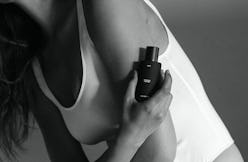 I've always been attracted to offbeat perfumes. Musk, patchouli, fig — if it smells like an exceptionally made gin and tonic, I'll wear it. This is partly why Reverie's new fragrance, Oath, caught my eye as soon as it landed on my radar; the product description notes it's "complex yet nostalgic." The other reason? Its packaging is seriously stunning. I'd first spotted the California-based luxury haircare brand days before while clicking through Sephora's virtual shelves. Even online, its sleek, black-and-white bottles and minimalist designs simply stood out.
And Oath is no different. The very first thing I noticed when the matte black box arrived in my mail prior to the perfume's Oct. 15 launch was the weight of the fragrance bottle itself — and the $120 1.5-ounce container isn't overly large in size. Even the bottle's cap felt welcomingly heavy in my hands as I popped it off, spritzing the perfume onto my wrist.
Key word: spritz. Although Oath is formulated largely from an array of 16 essential oils, the perfume sprayed as cleanly as any other bottle on my vanity. Its texture was different, though; Oath has a uniquely serum-like feel when you apply it to your skin, sinking right in and leaving its intriguing, bewitching scent behind. Chalk it up to Reverie's experience as a haircare brand: Oath is safe to spray on your skin and tresses alike.
This industry background also helped to form the scent itself. "Our most requested product has been a perfume with the scent of Milk," Garrett Markenson, founder of Reverie, tells The Zoe Report over email. As you may know, he's referencing Reverie's Milk Anti-Frizz Leave-In Nourishing Treatment, a $42 essential oil-dosed formula that currently has a 4.3-star rating at Sephora.
"The inspiration for the scent came from all the different earthly scents you experience while drinking wine," Markenson continues. "Oath is inspired by the pleasures of wine and of journey of the harvest. The commitment to produce something beautiful for others to enjoy and share. The 16 essential oils are just some of the tasting notes I experience from California Reds." And I'd have to agree. Oath is immediately bright and herbaceous — its top notes are bergamot, bay laurel, and sage, and you can sniff it straight away. However, as it settles in, this garden bouquet transforms into a sweetly androgynous perfume, combining traces of spicy ginger and soft rose with warm vanilla, sandalwood, and patchouli.
More importantly, it's dedicated to shedding light on its sustainably sourced, mostly organic ingredients. "Reverie is a company based on transparency and with the introduction of the California fragrance disclosure bill SB 574 this past year the dangers of artificial fragrance became a mainstream discussion," Markenson explains. "We felt it was time to let our customers know they were heard by introducing our 100 percent transparent, clean fragrance."
Even better? From how amazing it smells — and performs — you'd never guess Oath was made under impressively rigorous non-toxic guidelines. To test it out for yourself, pick up a bottle of Oath straight from Reverie's website below.