Repeller's Summer Drop Is Finally Here & It'll Make You Want To Overhaul Your Accessory Collection Immediately
COURTESY OF REPELLER/LEILA FAKOURI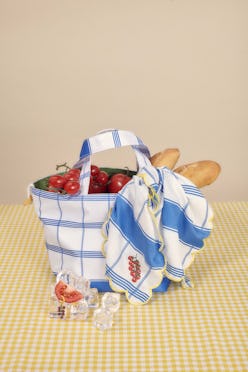 Sometimes, all it takes is one item to give your outfit a sartorial twist — that little something special that turns the dial up a notch. That said, the item doesn't need to be big, doesn't need to be expensive, and doesn't require wasteful packaging — at least that's the case when it comes to Repeller's summer 2019 collection. And, all it takes is one scroll through the newly launched lineup of wallet-friendly, eye-catching accessories to see they'll give your outfits a picture-perfect pop.
"Repeller is an experimental extension of Man Repeller in the form of cheerful accessories that are about self discovery," reads a note from Leandra Medine, Man Repeller's founder, on the brand's site. You may recall that Man Repeller released its first limited range of accessories for the holidays in 2018 dubbed MR's Holiday Buffet; however, now for the brand's initial summer drop (unveiled on June 4) it's ditched the Man and is sticking with Repeller for the fresh summery lineup of playful accessories.
"Repeller's second collection aims to continue its mission of plussing upon all the things we know and like about our wardrobes (and selves!) by enhancing them with outfit snacks that make all the things you have to do — carry your stuff, protect your face from the sun, pull your hair back and keep your pants up — a little more enjoyable," reads Medine's note on the website.
Within the summer-ready mix of charming pieces you'll see that many bring not only head-turning style, but function, too. You can shield your eyes from the sun with this pair of $85 pearl acetate "Unibrow" shades, keep your hair off your face with the multi-colored Repeller clip, $35, and toss all your must-haves in this super-cute napkin print tote for $80.
Even better? Everything rings in for under $100 with the exception of a bundled trio of items priced at $128. The bundle includes the Picnic Tote and the single hoop Tomato Earring (you can grab it solo for $45) as well as the scalloped trimmed Sir Scarf-a-Lot, which is priced at $35 on its own.
Adding to the accessories appeal is the fact that all of the packaging is made from everyday reusable household kitchen items. Smaller hard items like the clips are packaged inside a reusable food storage container and come with a reusable household sponge. Meanwhile, the sunglasses are enclosed in a hot handle that you can use to protect your hands when whipping up all your summer recipes.
As for the soft items, such as the scarf and tote? They'll be sitting pretty inside a Repeller-branded, water-resistant brown bag with a handy Velcro closure. You can reuse the smaller size bag for a packed lunch and the larger one for items you want to keep together in your carry-on.
Continue on to start scooping up pieces from the first summer drop of Repeller — there's no doubt they'll give your accessory collection a refresh for the warmest months of the year.