If You Like High-Waisted Jeans, You'll Love Reformation's Newest Collection
Courtesy of Reformation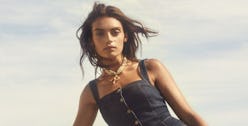 For a while there, the thought of covering our legs made us cringe thanks to the hot and humid summer weather, but now our bodies are ready to slip back into denim. Which makes it perfect timing for Emily Ratajkowski's go-to jean brand, Reformation, to launch its new denim line. The Fall Ref Jeans Collection is here, and this is one to shop before the first cool breeze of fall rolls through.
The collection is filled with denim pieces ranging from $98-$178 to get you started off on right foot this season while also taking good care of your backside. Yes, your booty was a priority for the brand in this collection, and with high rise styles in rigid denim to a stretch denim jumpsuit (very EmRata), you'll be decked out in trendy styles with added support from behind.
Though taking care of your backside is important to the brand, its commitment to the environment also takes a place at the top of its priority list. Reformation is a brand known for its sustainable practices, and these efforts are also carried out through its denim.
"About 1.7 million tons of chemicals and 2,000 gallons of water go into producing a typical pair of jeans. We work hard to help make your favorite pair of jeans without all the gross chemicals and crazy amounts of water," wrote the brand in a press release. "Our collection uses more sustainable fibers to get the same feel and fit for a fraction of the impact."
Continue on to delve into Reformation's new line of denim, which is available to shop on the brand's website now, to get you through this season and beyond.