Reformation's Colorful New Collab Has Your Next Go-To Sweater For Winter
Reformation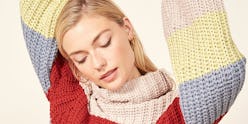 You already know that nothing beats wearing a big comfy sweater on a cool fall day. While cozy, those big sweaters can sometimes fall short of being fashionable, and styling oversized chunky knits can feel like an uphill battle (do you dress them up, or just go all in with leggings?). Fortunately for perpetually chilly people everywhere, the new La Ligne x Reformation capsule collection is here with the only big sweaters you'll need this season.
The La Ligne x Reformation collection consists of three sweaters each available in two colors for a total of six styles to choose from that retail for $228 apiece. Classic knit details such as chunky turtlenecks, thick cable knits, and ribbed cuffs get the Reformation treatment, re-conceptualized into elements that don't completely hide your shape. By simply elongating the cuff and minimizing the cable knit texture, the La Ligne x Reformation Sail-Away-With-Me Sweater becomes instantly feminine, ready to be tucked into jeans or worn with a floral maxi skirt.
But the silhouettes aren't the only Reformation signature in this capsule — Reformation's sustainable practices are also highlighted, with each sweater made of 100 percent recycled fibers. According to Reformation, the recycled yarns hail from Prato, Italy, and are created from plastic bottles, industrial waste, and spare denim cuts. While you wouldn't know from looking at it, the yarn used to create the stylish Never-Let-Me-Go Sweater is actually created from spinning together polyester made from recycled plastic and cotton fibers recovered from industrial waste.
La Ligne's trademark stripe and eye for detail aren't left in the shadows, though. The designers brought the graphic into play in this capsule through horizontal stripes of color and vertical stripes of texture, having spent years reimagining the stripe in La Ligne's own collections. Founded by Vogue alums Meredith Melling and Valerie Macaulay, along with Molly Howard who previously worked at Rag & Bone, La Ligne is a name to follow (if you aren't already) beyond this capsule, as the brand consistently designs some of the best sweaters available on the market.
Scroll down for all six sweater styles from the La Ligne x Reformation capsule collection, and never worry about picking between stylish and comfy again.