Foolproof Tips For Gifting Luxuriously (Without Breaking The Bank)
Christopher Patey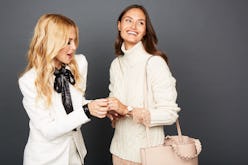 If like me, you are an awful daughter/sister/friend, you are probably more focused on frantic holiday-party shopping than you are on buying presents for your loved ones. In an attempt to gift more thoughtfully than my typical everyone-gets-books solution, I asked to see Rachel Zoe's holiday gift list. She has built a career on her ability to curate and has a reputation for glamour, so I figured she would be a good person to help me up my gifting game, since I am now a somewhat successful woman in her thirties who should be giving more elegant gifts.
Unsurprisingly, Zoe approaches gift giving with the same meticulous organization she relied upon as a stylist, but she assures me it wasn't always this way, "I've learned to get ahead of the game no matter how busy I am because otherwise nothing is available and you end up overspending to compensate." She makes a good point. So with the goal of not ordering everything on Amazon Prime and instead looking like — no, being — the most generous, glamorous gifter possible (who doesn't want to be the giver of the most luxurious gift?) I asked Zoe to share what she is giving, along with some of her personal tips.
Plan It Out
Set a reminder for yourself with at least three weeks to order, receive, and wrap gifts before you'll be presenting them. "Leaving shopping to the last minute reduces your flexibility and the likelihood you'll find something really special," says Zoe. Extra bonus: you're not mildly panicked for the entire holiday season.
Gift Them What They Don't Know They Need
Do not try to buy them what you know they're looking for — the chances of missing the mark are too high. "I've learned the hard way that trying to gift someone the version of something they already want is such a losing game. They've probably got their eye on something very specific, so unless they share it with you, it's best to go a different route." In the case of her mother, a beauty junkie who is less confident in the fashion arena, Zoe is not gifting a luxury beauty set or a treatment. Instead, she's gifting her a membership to her own Box of Style service. It will provide a year's worth of quarterly deliveries filled with fashion, beauty, and lifestyle products that will introduce her mother to "new brands, new trends and even give her handy styling tips showing her different ways to mix the pieces with her existing wardrobe," says Zoe, who personally curates the box. "Plus it comes in a metallic box, so it feels incredibly glamorous!"
Focus On What They Enjoy
Rather than starting your search for an item, try instead to think about the activities they enjoy and how your gift can enhance those activities. For her father who loves entertaining and hosting family, she's honoring their time together over the holidays with a caviar gift box. "He'll enjoy getting to sit together and savor the moment more than an item he'll put in a drawer and never use." For her sons who love being outside and running amok, she's getting a pair of Linus bikes "which will also make for beautiful decor when not in use." Opting for well-made versions of the items is key for the glamour component. "If you're not sure, do a little research into the brand, and if they have substantial heritage or are carried by well-respected retailers, they've most likely earned a valid stamp of approval," says Zoe.
Start A Tradition
Creating a tradition is an excellent way to avoid starting from scratch each year. "I adore giving my sister Pamela a delicate piece of jewelry to add to her collection. It holds so much more meaning for both of us, and it gives her something to look forward to!" Zoe also likes to err on the side of sentimentality when it comes time to gift her husband, Rodger. "Anything to commemorate our time with the kids, whether I commission a portrait of the boys or get a watch engraved with their initials," says Zoe. This year, she's giving Rodger a family trip for a little rest and relaxation. If a trip isn't in the cards, services like Artifact Uprising and Framebridge are a great resource for framing photographs of loved ones in a way that feels elevated.
Here are a few more of Zoe's go-to gifts: